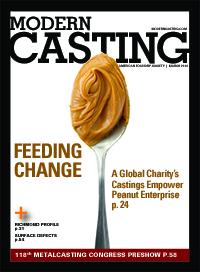 Read the Issue
: Click for the full digital edition of the March 2014 issue.
Cause and Defects
: Detect the causes of and determine remedies for common surface flaws in sand castings.
Metalcasting Congress
: Event Highlights p. 58, Workshops & Seminars p. 61, Schedule of Events p. 62, Award Winners p. 64, Technical Program p. 65. Exhibitors p. 72, Cast in North America p. 75, Casting Technology Showcase p. 77.