MODERN CASTING reaches executive and management level personnel at foundries representing every type of casting process and alloy.
The MODERN CASTING audience consists of the following:
The AFS membership, which includes the most active, innovative and forward-thinking leaders in the industry.
About 19,000 MODERN CASTING readers (print and digital) in North America, including nonmembers of AFS.
A substantial worldwide audience on the new, improved moderncasting.com.
Mobile readers—with mobile-friendly site design and digital magazine viewer for all platforms.
Targeted webinar and email audiences tailored to specific areas of expertise and interests.
Annual conference and expo attendees.
INDEX
GET STARTED
Contact your advertising sales representative today for details on how best to reach the metalcasting industry with your advertising message.
Midwest, West, Western Canada, International:
Fabio Cavalieri fabio@afsinc.org 708.670.9721
(Alaska, Arizona, Arkansas, California, Colorado, Hawaii, Idaho, Illinois, Indiana, Iowa, Kansas, Louisiana, Michigan, Minnesota, Mississippi, Missouri, Montana, Nevada, New Mexico, North Dakota, Oklahoma, Oregon, South Dakota, Texas, Utah, Washington, Wisconsin, Wyoming)
Northeast, Ohio, Southeast, Eastern Canada:
Joe Murphy AdSales25@aol.com 203.254.9595
(Alabama, Connecticut, Delaware, Florida, Georgia, Kentucky, Maine, Maryland, Massachusetts, New Hampshire, New Jersey, New York, North Carolina, Ohio, Pennsylvania, Rhode Island, South Carolina, Tennessee, Vermont, Virginia, Washington DC, West Virginia)

Click here for the 2022 MODERN CASTING Editorial Calendar.
Click here for our 2022 MODERN CASTING Special Issues Calendar.
Click here for our advertising pricing and specifications.
WHY ADVERTISE IN MODERN CASTING?
Modern Casting sets the standard as the industry's most authoritative and credible source of information for the metalcasting industry.
Published monthly since 1938 by the American Foundry Society, the award-winning Modern Casting magazine provides the metalcasting industry with technical information for operational and business decisions. More than 20,000 producers of metal castings, pattern and tooling shops, and their suppliers receive Modern Casting in print and online each month. The American Foundry Society is the leading U.S.-based metalcasting society, assisting member companies (metalcasting facilities and industry suppliers) and individuals to effectively manage their production operations, profitably market their products and services, and equitably manage their employees.
Modern Casting is distributed across North America and internationally, reaching decision makers at foundries pouring all metals using all metalcasting processes.
Modern Casting has earned its reputation as the metalcasting industry's leading source of information. Industry leaders engage with Modern Casting in many different ways. Combine our platforms to achieve your goals!
VEHICLES FOR ADVERTISING
Advertisers may reach the MODERN CASTING audience via the following opportunities:
MODERN CASTING print and digital magazine
MODERN CASTING special publications: Buyer's Guide, Supplier Prospectus, and Metalcasting Supplement
MODERN CASTING website
MODERN CASTING e-newsletter Hotline
Lead generation through sponsored webinars
Turnkey targeted email blast and direct mail programs
Custom publishing opportunities including reprints of feature articles
An additional worldwide audience of 80,000 online readers can be reached via Global Casting Magazine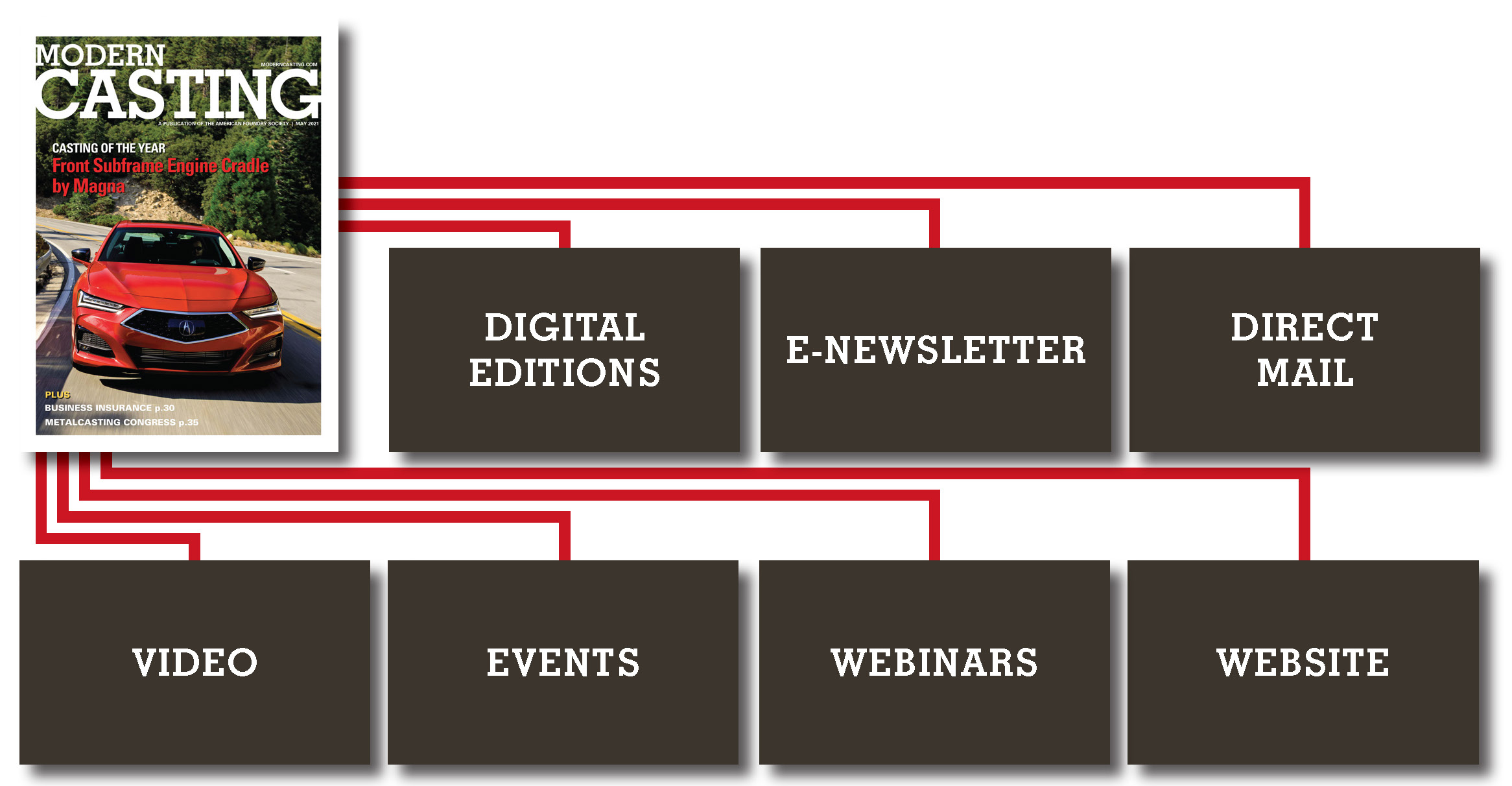 WEBSITE ADVERTISING
The official website for Modern Casting averages more than 17,000 page views per month. All banner ads appear in rotation. Inventory is limited.
| | | | | |
| --- | --- | --- | --- | --- |
|   | 12 Months | 6 Months | 3 Months | 1 Month |
| Leaderboard (728 x 90 pixels) | $695/month | $865/month | $990/month | $1,350/month |
| Sideboard (300 x 250 pixels) | $525/month | $650/month | $830/month | $1,100/month |
VIDEO ADVERTISING
1. EMBEDDED VIDEOS IN THE DIGITAL EDITION
Bring your products to life by embedding a video into your ad in the digital version of the magazine. All ads that appear in the print issue of Modern Casting also appear in the digital edition.
RATE:
$600 per month
Click the image on the right to view an embedded video.
Analytics data available for benchmarking.

2. SUPPLIER VIDEO CENTRAL
Supplier Video Central provides supplier decision-makers with one-stop access to informative videos from some of North America's premier ferrous and nonferrous foundry suppliers.
Video placement on Supplier Video Central is in random order each time a visitor comes to the site. You never need to worry that your video is getting pushed permanently to the bottom of the page.
The American Foundry Society will be promoting Supplier Video Central continuously to foundries and designers to ensure steady traffic.
Periodic reports from AFS are available.
Video placements are for a 12-month period with no mid-year substitutions.
AFS TARGETED DIGITAL ADVERTISING
Think Outside of the Inbox
If you're only targeting customers via email, you're missing an opportunity to reach them regularly. With the modern office redefined, your brand can stay in front of customers wherever they venture – even if they're not in your database. 

Marketing that Hits the Mark
Targeted Digital Advertising from AFS uses the strength of our industry-leading magazines, Modern Casting and Casting Source, to identify a qualified audience of foundry pros from across the worldwide metalcasting supply chain. Your brand goes where they go, bringing your message to their computers and mobile devices at a fraction of the cost of other web ad services.

Measure Your Success
Focus your ad delivery by keyword, location and more, and determine your brand's level of exposure over time. Whatever you choose, transparent metrics reporting lets you watch your investment pay off by tracking every part of your campaign's reach.
For more information, CLICK HERE.
BASIC EXPOSURE
ADVANCED EXPOSURE
DOMINANT EXPOSURE
30,000
monthly impressions
50,000
monthly impressions
100,000
monthly impressions
TOTAL INVESTMENT
TOTAL INVESTMENT
TOTAL INVESTMENT
$1,800 - 3 Months
$3,420 - 3 Months
$6,480 - 3 Months
$3,420 - 6 Months
$6,480 - 6 Months
$12,240 - 6 Months
$6,480 - 12 Months
$12,240 - 12 Months
$23,040 - 12 Months
MODERN CASTING HOTLINE AND FOUNDRY FILES E-NEWSLETTERS
Two editorially driven e-newsletters are sent each month to 20,000 opt-in subscribers. Hotline Online delivers the newest issue of Modern Casting and Foundry Files reports the latest industry news. Each carries a maximum of four banner ads per edition and an inline native text ad. It is a great way to get your message out to foundries and people involved with the foundry industry. Repetition is key for brand and message recall. Delivered 2nd and 4th Wednesdays of every month. Analytics data available for benchmarking.
| | | | | |
| --- | --- | --- | --- | --- |
| AD RATES PER MONTH | 12x | 6x | 3x | 1x |
| Leaderboard (728 x 90 pixels) | $1,100 | $1,500 | $2,000 | $2,250 |
| Skyscraper (300 x 500 pixels) | $1,500 | $2,000 | $2,500 | $3,000 |
| Sideboard (300 x 250 pixels) | $750 | $1,000 | $1,200 | $1,500 |
| Inline Text Native Ad | $700 | $900 | $1,100 | $1,300 |
AFS INSIDER NEWS WEEKLY E-NEWSLETTER
AFS Insider News is a weekly e-newsletter delivered to 4,200+ card-carrying AFS members in the metalcasting industry. It carries a maximum of one leaderboard and three sideboard ads per edition. The newsletter goes out every Thursday and ads are sold in monthly flights.

DIGITAL SPECIFICATIONS:
File Format: Static or animated GIF or PNG
File Size: Max of 1MB
Resolution: 72 DPI or greater
Leaderboard Size: 728x90 pixels
Sideboard Size: 300x 250 pixels
URL link optional
 
Months with 
Five Weekly Issues
Months with 
Four Weekly Issues
Leaderboard (728x90) (top-of-page)
$3,000
$2,400
Sideboard (300x250) (right-hand column)
$2,250
$1,800
E-MAIL BLAST PROGRAM
MULTIPLE WAYS TO TARGET:
Email blasts are an excellent way to target segments of the Modern Casting database. Your customized program includes list fees and all administrative costs. Database is not available for purchase—all email blasts must be administered in-house by Modern Casting staff.

For a list of targeting parameters, contact your representative.

5,000 addresses: $2,500
4,000 addresses: $2,300
3,000 addresses: $2,000
2,000 addresses or fewer: $1,500

Ad materials: HTML file and click through link.
SPONSORED WEBINARS
A sponsored webinar is one of the strongest lead generation tools available to suppliers. Registrants voluntarily provide detailed contact information in return for the opportunity to view a presentation on a topic of your choice. And a carefully developed webinar presentation not only establishes you as a key expert in the field, but also can be used continually across different platforms.

Promotions for webinar presentations are distributed to the Modern Casting database through all available online channels for 3-4 weeks prior to the presentation date. (In-print promotion can be added at your discretion.) In addition, all administrative and technical needs for the staging of the webinar are handled by Modern Casting staff. Finally, shortly after the live presentation, the data collected on all registrants is provided to the sponsor.

As sponsored webinars are considered co-branded content, your topic and presentation will also receive the benefit of review and feedback from the Modern Casting editorial staff.

Order deadline: 8 weeks prior to week of presentation.
| | | | |
| --- | --- | --- | --- |
| REGISTRANTS | PRICE | REGISTRANTS | PRICE |
| 200+ | $12,000 | 100-124 | $9,000 |
| 150-199 | $11,250 | 75-99 | $7,500 |
| 125-149 | $10,500 | 50–74 | $5,000 |
If registration does not reach 50, sponsor will have the option to cancel, reschedule or accept a reduced number of registrants. Webinar topic and presentation content subject to final approval by Modern Casting staff. Analytics data available for benchmarking.
ANNUAL BUYER'S GUIDE
Since 1963, the Modern Casting Annual Buyer's Guide is the one complete reference source that metalcasters instinctively turn to again and again, all year long. Be there when buying decisions are being made! It is the most comprehensive and easy-to-use reference source for suppliers of equipment, materials and services. 
Regular Modern Casting ad rates apply for display advertising. Adlets placed within directory listings are reserved for AFS Corporate Members and can be placed within any of the product classifications available. Perfect opportunity for multiple exposures!
| | | | | | |
| --- | --- | --- | --- | --- | --- |
| B&W | 5+ ADLETS | 4 | 3 | 2 | 1 |
| Double Adlet | $515 | $540 | $570 | $640 | $720 |
| Single Adlet | $380 | $415 | $460 | $525 | $610 |
| | | | | | |
| --- | --- | --- | --- | --- | --- |
| COLOR | 5+ ADLETS | 4 | 3 | 2 | 1 |
| Double Adlet | $665 | $690 | $720 | $790 | $870 |
| Single Adlet | $530 | $565 | $610 | $675 | $760 |
PRINT

Modern Casting's editions are archived digitally, so your print ad in the Buyer's Guide can be seen by anyone referencing this issue at any time.
| | |
| --- | --- |
| MANUFACTURING INDEX LOGOS | PRICE |
| Member | $250 |
SUPPLIER MARKETPLACE
SupplierMarketplace.net is an exclusive online marketplace of foundry industry suppliers, featuring only those companies which are current Corporate Members of AFS. 
Custom listings on SupplierMarketplace.net feature high-performance SEO capabilities and built-in flexibility that allows metalcasters to search for suppliers by keywords, location, and over 600 product categories. Profiles include direct links, videos, marketing materials, contact details, traffic reports and even lead generation. 
To guarantee maximum exposure for your company, there is a premium Corporate Member Advantage plan that increases the available features for only $250 a month, accessible through the profile dashboard under "Increase Visibility."
ADDITIONAL MARKETING OPPORTUNITIES

CASTEXPO SHOW GUIDE
Exhibitors have the exclusive opportunity to promote their participation in the Guide to CastExpo 2022, given to all attendees at CastExpo. Make it easy for them to find your booth and see any "Show Specials" you will be offering.
PRINTED INSERTS AND ARTICLE REPRINTS
Both are available from Modern Casting magazine on a custom basis. Ask your advertising representative for details and pricing.

BELLY BAND
Ideal for a product, service or special announcement. The band wraps around the entire magazine and must be removed before reading. Pricing may vary depending on the thickness of the magazine, stocks used and size of belly band. Please contact your sales representative for a detailed quote.

ADVERTISER FURNISHED FLYERS
Feature your own pre-printed flyer insert inside the Modern Casting magazine or we can include loose flyers in a polybag with the magazine.

AFS CONFERENCE SPONSORSHIPS
Each year, AFS hosts a variety of professional, executive, and invitation-only conferences covering a variety of topics. Low-cost, high-impact sponsorships are now available for most of them. For complete information, please contact: Kim Farrugia at kfarrugia@afsinc.org or 630-930-4401.

DIRECT MAIL PROGRAM
Direct mail places tangible information in your customers' hands. Your customized program includes list fees and all sorting and handling costs. Outsource design and printing services also can be included on request. Database is not available for purchase—direct mail programs are administered in-house by Modern Casting staff. For a list of targeting parameters and a custom quote, contact your representative.

CONTENT MARKETING
What to do with your current white papers, videos, print advertisements, magazine editorials, testimonials, etc., that are buried on your company website or marketing drive? Let the staff at Modern Casting build your content into an easy-to-read custom digital publication and e-blast it to our database on your behalf.
CLASSIFIEDS
You can post a classified ad in our print publication and/or post a job to our online career center. For more information, click here.