‹ Back to Columns
FEF College Students Serving Their Country
Eden Diller, a chemical engineering student at Trine University, made her way to Trine via the National Guard. As a junior in high school, she wasn't sure how she would cover the cost of her education, but after meeting with a recruiter, decided entering the National Guard was the way to go. 
"Not only did I feel it would help me financially, but it also made me more confident in who I was," Diller said.
During an internship, Diller realized she really enjoyed working and learning about metal making, so she decided to add a metallurgy minor to her educational pursuit. When asked what she enjoys most about metalcasting, Diller said, "…the chemistry behind it, the hard work that goes into it, and how many hundreds of applications in our day-to-day lives metalcasting applies to."
Diller continues to serve in the National Guard and was deployed last summer to assist the state of Indiana in COVID relief operations. She is a chemical, biological, radiological, and nuclear specialist in the 113th BSB, an infantry support unit in Muncie, Indiana. One of her duties is teaching other soldiers the fundamentals of chemical warfare and how to stay safe. Diller's anticipated graduation date is spring 2023.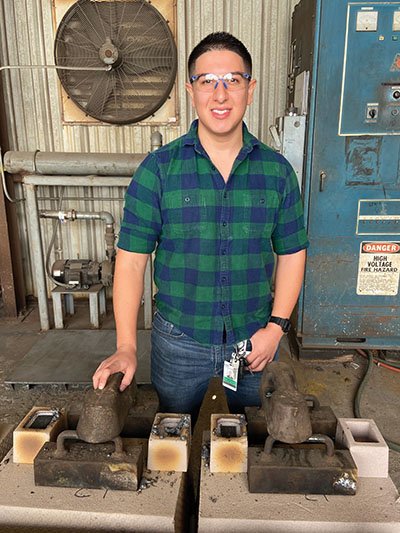 Gustavo Guevara is a US Marine Corps veteran who served three years as an Expeditionary Airfield Systems technician. He was stationed in Miramar, California, under the Marine Wing Support Squadron 373. One of Guevara's responsibilities was maintenance and operation of arresting gear that was used to aid tail-hooked jets to land safely in the case of engine failures or other emergencies. After being medically separated at the rank of corporal due to a ruptured brain aneurysm, he attended community college. He graduated with his associate's degree in mathematics and then transferred to Cal Poly Pomona (CPP). 
Having earned his lean Six Sigma Green Belt in the military, the professors at CPP assured Guevara that manufacturing engineering was the major he wanted to be in. 
"As soon as I transferred, I was welcomed with open arms and joined FEF, AFS, and the Associated Manufacturing Societies Club on campus," Guevara said. "I have been on a co-op at the sand-casting foundry, Consolidated Precision Products (Pomona, California), for two years working as a process engineer.  My main projects include creating a new format for work instructions, managing production of chills, managing sand data, and taking statistics on core defects. This is an incredibly fun field with a lot of opportunity. As long as you network and actively participate in manufacturing events, you will be sure to find something perfect for you." 
Guevara's anticipated graduation date is this fall.
Thanks to Diller and Guevara for their military service. We look forward to their service in the metalcasting industry.