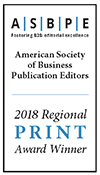 MODERN CASTING reaches executive and management level personnel at foundries representing every type of casting process and alloy.
The MODERN CASTING audience consists of the following:
The AFS membership, which includes the most active, innovative and forward-thinking leaders in the industry.
More than 15,000 MODERN CASTING readers in North America, including nonmembers of AFS.
A substantial worldwide audience on the new, improved moderncasting.com.
Mobile readers—with mobile-friendly site design and digital magazine viewer for all platforms.
Targeted webinar and email audiences tailored to specific areas of expertise and interests.
Monthly e-newsletter audience of more than 17,000.
Annual conference and expo attendees.
Vehicles for Advertising
Advertisers may reach the MODERN CASTING audience via the following opportunities:
MODERN CASTING print and digital magazine
MODERN CASTING special publications: Buyer's Guide, Supplier Prospectus, and Metalcasting Supplement
MODERN CASTING website
MODERN CASTING e-newsletter Hotline
Lead generation through sponsored webinars
Turnkey targeted email blast and direct mail programs
Custom publishing opportunities including reprints of feature articles
An additional worldwide audience of 80,000 online readers can be reached via Global Casting Magazine
Get Started
Click here for the complete MODERN CASTING media kit. Contact your advertising sales representative today for details on how best to reach the metalcasting industry with your advertising message.
Midwest, West, Western Canada, International:
Fabio Cavalieri fabio@afsinc.org 847.827.3622
Northeast, Ohio, Southeast, Eastern Canada:
Joe Murphy AdSales25@aol.com 203.254.9595
Buyer's Guide Adlets:
Jim Beckwith jbeckwith@afsinc.org 847.803.2908
Classifieds
You can post a classified ad in our print publication and/or post a job to our online career center. For more information, click here.