The AFS/Metal Casting Design & Purchasing Casting Competition is your chance to show the engineering and purchasing community what a metal casting can accomplish. Beyond the company recognition and industry public relations gained through the "best-in-class" castings, all entries will appear in Metal Casting Design & Purchasing magazine's "Castings in Action" and "Casting Innovations" departments. The 2019 winners will be showcased in Cast in North America at CastExpo.
Participation is open to all North American metalcasters and designers/users of metal castings. Previous entries may be resubmitted. Castings are sought in all metals, casting processes, end-use applications and sizes/weights. Click here for the entry form.
Independent judges will evaluate each entry on:
Benefits delivered to the casting customer.
The use of the casting process' unique capabilities.
Contribution to growth and expansion of the casting market.
This year, winners will be broken out into all-new categories, with an all-around Casting of the Year winner still chosen.
The new categories will be:
1.    Newcomer (Rookie of the Year)
This award will go to a company that has not submitted a casting in the last 10 years. Don't be intimidated to enter the contest and show your stuff.
2.    Best Example of a Casting Conversion
This award will recognize companies that used metalcasting's strengths to convert a product from a non-casting process.
3.    Achievement in a Small Foundry Business
Not every foundry has armies of staff. Smaller facilities are doing great work, and they are a key part of the industry. This will reward companies that are doing more with fewer workers.
4.    Best Innovation/Prototype
The metalcasting industry continues to evolve and stride into the future. That's partly because metalcasters are always stretching capabilities and looking for newer and better. This category is for castings that might not be ready for full production but could be the precursor to the next big thing.
The deadline for submission is January 31. Please complete the form below (with any supplemental information) and send it, along with the casting, to:
Casting Competition'19
1695 N. Penny Ln.
Schaumburg, IL 60173-4555.
If you have any questions, contact bsandalow@afsinc.org or Casting Competition, 1695 N. Penny Lane, Schaumburg, IL 60173.
TEI Wins 2018 Casting of the Year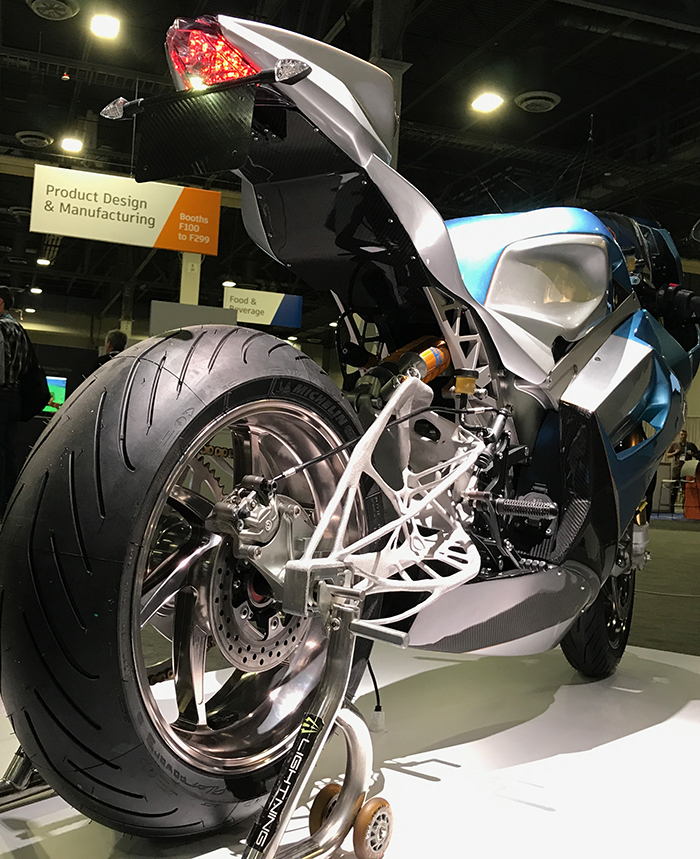 Tooling Equipment International (Livonia, Michigan) has won the AFS/Metal Casting Design & Purchasing Casting of the Year award for its motorcycle Cyclotron swingarm. TEI teamed with software company Autodesk to design and produce a casting that provides the ultimate performance characteristics with the minimum weight. 
Originally a three-part billet machined into a box section, the new design reduced mass by 10% with an increase in torsional and bending stiffness. TEI cast and machined the part in three weeks using 3-D printed sand technology and extensive simulation. Casting and secondary processes such as machining and heat treating were carried out onsite, which minimized timing.
 
"Organic shapes like this one encourage adoption of optimization and truly use the benefits of the casting process," said one casting competition judge.
 
The AFS/Metal Casting Design & Purchasing Magazine Casting Competition is held every year to give North American metalcasting facilities the chance to show the engineering and purchasing community what a cast metal part can accomplish.
Six other castings were honored as Best in Class or Honorable Mention winners.
 
Best in Class:
Meridian Lightweight Technologies Inc. (Strathroy, Ontario, Canada)/General Motors (Warren, Michigan) for a magnesium side door inner panel.
O'Fallon Casting (O'Fallon, Missouri) for an aluminum manifold body casting.
Washburn Iron Works (Washburn, Wisconsin) for an iron disc. 
Honorable Mention:
Aristo-Cast Inc. (Almont, Michigan) for an onsite cube camera.
AAM Columbiana (Columbiana, Alabama) for a lost foam torque rod.
Wellman Dynamics Corp. (Creston, Iowa) for a high-pressure boost pump housing.