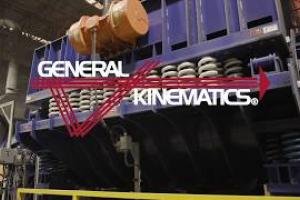 General Kinematics' VIBRA-DRUM® Sand and Casting Conditioner uses GK's signature Two-Mass technology to tumble castings, removing sand and agglomerations gently. The VIBRA-DRUM® Reduces sand to original grain size through high-frequency agitation, while cooling both sand and castings to safe temperatures before they exit the drum. The VIBRA-DRUM® design is completely enclosed and non-rotating, eliminating safety concerns related to standard rotary models.
 
Cleaner work environment. The enclosed structure contains airborne silica and dust.
Better quality castings by controlling the metallurgical cooling.
Easier to feed, easier to unload, and easier to maintain.
Looking to improve the quality of your castings? Call 815-455-3222 today to learn how the VIBRA-DRUM® can improve your casting quality or click here to learn more.
General Kinematics Corporation is one of the world's largest suppliers of vibratory processing equipment, having held more than 200 worldwide patents, GK is acknowledged as a major contributor to the technical advancement of vibrating equipment design and application. As new process and efficiency challenges emerge, General Kinematics is qualified to address these needs with advanced technology, innovative engineering, new materials, and manufacturing techniques. General Kinematics is uniquely positioned to provide a broad scope of engineering support developed over our 60 years, working directly with foundries around the world to solve the most challenging processing problems.