‹ Back to Columns
Multiple Universities: One Common Goal
A common statement from students who attend FEF's annual College Industry Conference is the observation about "just how well everyone (in the industry) gets along and how friendly everyone is." So, it's no surprise that the "getting along" starts early in a person's career. For example, students from various colleges/universities can come together to work as a team on a casting project. Case in point: the SFSA Cast in Steel competition.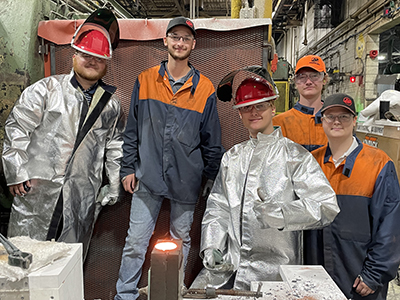 This year's competition was to cast an African spear point which would be judged on performance, authenticity, and design. Keaton Allen (Missouri Univ. of Science & Tech), Jacob Belke (Michigan Tech), Xander Bowen (Georgia Southern), Matthew Dobija (North Dakota College of Engineering & Mines), August Rautmann (Georgia Southern), and Garrett Starkman (Wisconsin-Platteville) made up the "Mixed University" team. 
"I'm always looking for a way to challenge my metalcasting skills and knowledge while learning something new," Belke said. 
Starkman added, "I thought it would be exciting to participate again (he participated in 2022), especially with students from around the country."
Each of the team members had a specific responsibility for this project. Allen was the metallurgical technical advisor and built all the pouring equipment as well as the inert chamber used to prevent oxidation while melting the metal. Starkman's role was to assist the team with any needs related to feedback on the design, making flasks, pattern boards, and cores, as well as helping with 3D prints. Belke was the grad student/industry sponsor rep. He made sure everyone was participating safely and helped guide the team in the direction that would give them the best chances of being successful.
One of the purposes of the SFSA Cast in Steel competition is to provide an opportunity for metalcasting students to use their book learning and lab experiences for a creative, useful, fun project. Starkman mentioned that he was able to use skills that he learned in his courses that covered 3D modeling, casting and gating design, mold and core box design, and metallurgy. These are just some of the important subject areas that students learn in the metalcasting programs at our network of FEF colleges and universities. The emphasis placed on these disciplines is what makes FEF students high-quality employees upon graduation.
This competition provided an opportunity to put into practice what was learned in the classroom, but it was also fun. For Allen, the most enjoyable part was casting the spear and the experimentation involved. The most fun part of the project for Starkman was "getting to know the students from the other universities."
"The thing I learned was how talented and inventive all the other students were," Belke said. "I'm always amazed at every year's competition at the different designs and styles everyone does that matches the requirements the judges are looking for."
Belke's comment is a great testimony to the vastness and diversity of the education provided by FEF schools. Each student that goes through the FEF metalcasting program at their chosen university is highly qualified and extremely excited to make an impact at the company that hires them. If you want to meet over 100 students who are ready to make a difference at your company, plan to join us at the 2023 College Industry Conference in November. More information is available at 
www.fefinc.org/registration.