‹ Back to Columns
Foundry Is the Career Choice for Gen X and Gen Z
The year is 1992; the student (representing Penn State) is Glenn Muzzy Sr.; the FEF Key Professor is Dr. Bob Voigt; the event is the FEF College Industry Conference (CIC). Fast forward to the year 2022, and the student is Glenn Muzzy Jr. (representing Penn State); the FEF Key Professor is Dr. Bob Voigt; the event is the College Industry Conference.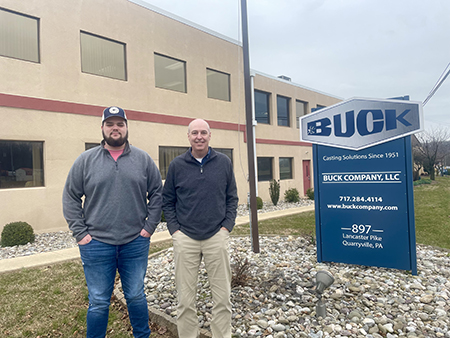 This could be a story about consistency: the CIC has been taking place each year for 60 years, Dr. Bob Voigt has been the FEF Key Professor at Penn State nearly 35 years, and FEF certified and affiliated schools have been graduating metalcasting industry students for over 75 years.
But this is the story of two generations making a choice for foundry and taking advantage of that consistency.
Glenn Muzzy Sr. attended Penn State and was introduced to metalcasting through the "foundry nights and FEF scholarships available at the university." After that introduction, he said he "took all the metalcasting related classes available in the Industrial 
Engineering program." During his college days, Muzzy Sr. worked as an intern at Benton Foundry and then took a job at Buck Company following his graduation. Although he left Buck for a few years, he has been back at the company since 2019 as the executive vice president, coincidentally working with Jim Kundratic, who is president of Buck Co. as well as a Penn State grad, FEF alum, and current FEF board member.
Glenn Muzzy Jr. is currently enrolled at Penn State. Although his father didn't push him into the industry, he did share with him his experiences with Dr. Voigt in the IE program and that "there are good opportunities for students to enter and advance within the foundry industry." Muzzy Jr. knew that he wanted to go into engineering but wasn't sure what specific major or field. 
"My first semester on campus, I took an IE seminar and was really interested in the manufacturing aspect of IE," he said. "My internship at Buck in the summer of 2022 confirmed that I wanted to go into metalcasting…I knew that the foundry was where I wanted to be."
At Buck Company, internships are important for both the company and the student. 
"It is an opportunity to evaluate potential future recruits for 12 weeks, while providing them the opportunity to understand the entire metalcasting process through actual hands-on experiences," said Muzzy Sr. 
Muzzy Jr. added, "For me it was a good way to decide if the foundry was a fit. At the start of my internship, I was nervous and didn't know what to expect. I feel like the entire experience helped with my confidence."
When asked what they enjoy most about the foundry industry, each of the Muzzys landed on the same draws. Muzzy Sr said, "I have been in the industry for 31 years and I still enjoy watching molding, melting, and pouring. There is also great camaraderie within the metalcasting community." 
Muzzy Jr.'s answer was basically the same: "My favorite parts of the foundry industry are the molten metal and the relationships I have built within Buck and the industry."
FEF asked Professor Voigt his thoughts on teaching two generations of metalcasters. 
"It is very rewarding to see former students be successful in their foundry careers," he said. "But it is truly special to get a chance to work with the next generation of talented foundry industry leaders."
With the consistency of world-class educational opportunities at FEF schools, passionate and dedicated Key Professors, and metalcasting companies providing internship experiences for students, foundries and suppliers will continue to have a pipeline full of educated and experienced future employees. Professor Voigt put it best: "The FEF legacy continues!"