‹ Back to Columns
Recent grad discusses career path to metalcasting
James Russell is a 2019 graduate of FEF-certified school, Purdue University, with a mechanical engineering technology degree. He is currently employed at Harrison Steel Castings as a foundry engineer. How did James come to be employed at Harrison? What made him choose the metalcasting industry? What part did Foundry Educational Foundation (FEF) play in his vocational decision?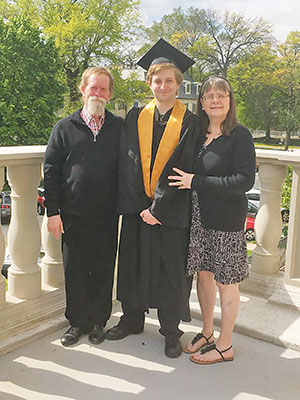 During Russell's freshman year at Purdue, the lab teaching assistant talked to his class about AFS and FEF and the amazing opportunities offered. Russell became a member of the AFS Student Chapter and was able to take advantage of foundry tours, open casting nights, and professor scholarships offered by FEF.
"I've enjoyed the process, the building of the mold, and just the people in this industry," Russell said. "The core classes (that I took) really were the ones that made me have to study more and work with others."
In his senior year, Russell was chosen to attend FEF's College Industry Conference (CIC). At this event he was able to speak directly with HR representatives and engineering professionals, from multiple companies, attending the conference with the sole purpose of hiring college grads interested in entering the metalcasting industry. One of these companies was Harrison Steel Castings.
"When I first thought about the description of my current job, I thought I would be stuck at a desk all day, but it turned out to be way more hands-on than I anticipated. I enjoy the ability to investigate cast defects or be able to just walk through the foundry seeing the flow or creation of different styles regarding casts and the marvelous rigging designs behind them."
James is just one of the many college grads who have attended an FEF college or university where there is a strong focus on metalcasting education and experience. Each year over 100 of these students attend the College Industry Conference, along with representatives from 40+ companies and societies. This conference offers a great opportunity for companies to meet many young people already interested in the industry, who are eager to join and contribute to an organization.
Mark your calendar now to attend the 2020 College Industry Conference on November 19-20 in Chicago. You may meet the next James Russell who is the right fit for your company.     
College Connection is a recurring feature that runs in Modern Casting highlighting the metalcasting programs and students at FEF schools.
Click here to view the article in the May 2020 digital edition.