‹ Back to Columns
There Is a Place for You Here at AFS
Most AFS committees are seeking volunteers. Don't let the words "committee" or "volunteer" scare you. We have nearly 1,000 volunteers in more than 30 technical and management committees. Speak to nearly any of them, and you'll hear their passion for AFS. You need not be an industry expert or graybeard to participate! To join a committee, contact Kim Perna at kperna@afsinc.org.
There are 40 industry chapters across North America. What a spectacular way to make an impact at the local level. Grab a friend or a new co-worker and attend an upcoming chapter activity.
Many people in the formative stages of their careers are participating in Future Leaders of Metalcasting. It's a great way to plug in for people who are, or aspire to be, on the management track at their employers. The business networking is second to none.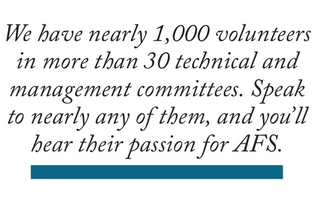 In a historically male-dominated industry, it is encouraging to see many women taking their rightful place in key positions, and participating in our Women in Metalcasting program.
Finally, don't forget to invest in your own education and professional development through AFS Institute courses and e-Learning. Institute training courses will be offered in a variety of locations in the coming months, including Detroit; Cleveland; Fond du Lac, Wisconsin; Leetonia, Ohio; Birmingham, Alabama; Schaumburg, Illinois; Charlotte, North Carolina; and Lancaster, Pennsylvania.
We are expecting 2,000 metalcasters, suppliers, buyers and designers at Metalcasting Congress 2020, April 21-23. The show returns this year to Cleveland, which has modern new hotel and convention facilities. The keynote, technical and management sessions will cover a variety of interesting topics. Also this year, we are presenting three Institute courses at no additional cost—Identifying the Correct Casting Defect, Metalcasting Process Basics, and Employee Retention. To purchase your exhibit, contact Deana Barreuta at dbarreuta@afsinc.org.
The opportunities are here at AFS, and we look forward to seeing you soon. There truly is a place for you at AFS.
Click here to see this story as it appears in the January 2020 issue of Modern Casting.