‹ Back to Columns
The Times They Are a Changin'
Folk singer Bob Dylan had a hit record in 1964 with a memorable song, The Times They Are a Changin,' that became an anthem for a time of social change. The Sixties were characterized not only by social change, but also technological change that was exemplified by the advance of mainframe computers, the growth of communications satellites, and the successful 1969 moon landing. Today, the pace of technological change is advancing at a rate that would have been almost unimaginable five decades ago.
One form of technological change concerns motor vehicles. As electric cars and autonomous vehicles gain prevalence, what strategies and options are available to the foundry supply base to deal with this looming disruption? Many in the foundry industry around the globe are attempting to prepare for these changes. Paul Eichenberg, whose 25 years of experience working with Fortune 500 automotive suppliers includes eight years with Magna Powertrain & Magna Electronics, will address this topic in a Keynote Address on Thursday, April 23, at Metalcasting Congress 2020 in Cleveland. We trust you'll find his remarks informative and thought-provoking, even if your foundry does not produce castings for automakers.
Another area of potential change concerns public policy. The current presidential administration has adopted a comparatively cautious approach to regulating business, but that could change markedly with the next administration, whenever it arrives. For example, several presidential candidates, including Elizabeth Warren, have pledged to make hydraulic energy fracturing (or fracking) illegal. Fracking has been instrumental in the U.S. becoming less dependent on unstable foreign energy sources. If government policies began to diminish domestic oil and gas production, there would be implications for foundries whose castings support the energy industry. One can think of a number of other examples where policy changes could affect metalcasters, for better or worse. AFS maintains a full-time presence in Washington, representing our industry's interests on a host of issues.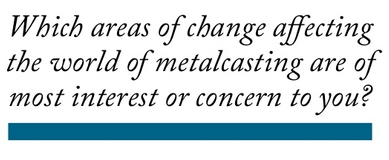 A third area of change pertains to employee training. A great generation of foundry employees is in the midst of retiring, and it has been challenging for many metalcasters to recruit, retain and train their successors. Many foundries are experimenting with alternative approaches to attracting employees and staying with those practices that seem to work best. Some foundries are focused on enhancing their reputations in the community as outstanding employers, a topic that Sara Timm, marketing communications manager of AFS Corporate Member Waupaca Foundry, addressed at the recent AFS Foundry Leadership Summit in Traverse City, Michigan.
AFS is partnering with foundries on solutions to the workforce challenge. A fast-paced video produced by AFS highlights the rewarding careers available in metalcasting. We encourage foundries to show that video to prospective employees and at Manufacturing Day events and related activities. At least 20 member companies joined AFS in holding Manufacturing Day events in October to expose students to careers in our field. Moreover, nearly 260 young professionals already in the foundry industry are pursuing professional growth through the AFS Future Leaders in Metalcasting program.
Lastly, to help foundries in this changing environment, AFS is now offering highest-quality training in a variety of formats—classroom courses at our Schaumburg, Illinois, office; regional training in locations ranging from California to Alabama to Ohio to New England; in-plant training in the convenience of your own facility; and e-Learning modules that provide training for metalcasting excellence in the convenience of your own foundry.
Which areas of change affecting the world of metalcasting are of most interest or concern to you? Let us know, and we'll do our best to address them in future Modern Casting articles and AFS programs. 
Click here to see this story as it appears in the November 2019 issue of Modern Casting.