Beauty at Your Feet
In a neon billboard culture where something screams for attention at every corner, Mark Armstrong believes humans still experience the world best within a five- or six-foot range, which is why his work—that dwells in the subtle, close-up enjoyment of unexpected beauty—is so fulfilling. 
He's the co-founder and president of AFS Corporate Member Iron Age Designs, whose flagship product is standard and custom decorative drain grates; the company also produces tree grates, metal registers and site furnishings. While these items are perhaps not glamorous to say, the team's creativity has turned the heads of clients specifying for jobs at Disney parks, as well as Universal Studios, the Lincoln Memorial and the National Mall, the National World War II Museum in New Orleans, the National Zoo, as well as for countless wholesalers, municipalities, parks, mixed-use developments, government installations and homeowners.
Comprised of casting specialists who don't pour their own metal, Iron Age is a design phenomenon launched by Armstrong and a partner, who cut their career teeth together at a foundry that made the same kinds of products as the 16-year-old, Burien, Washington-based firm does today—but the pair were bold enough to think they could "build a better mousetrap," said Armstrong. 
They capitalized on a disconnect within the trench/drain/trough system industry, in which drain bodies were made to fit only the grates made by any particular manufacturer. And decorative drain grates were unheard of, said Armstrong. 
"Trying to search 'decorative drain grates' on the web was a joke," he added. "It just did not exist in 2005. At the time we began our business, and because of the exposure we had through the foundry we worked in, we identified these small trench and drainage castings as our way into business."  
Barely off the ground back when Armstrong was using a door slab for a desk, the business added two more partners and developed an initial business plan based on manufacturing grates in China and selling to U.S. big-box retailers; but in the process of making their first pattern, a domestic patternmaker introduced the entrepreneurs to the treasure-trove of U.S. metalcasting sources, and the partners were hooked. Iron Age quickly pivoted and never looked back. 
"This pattern shop told us you can take out a lot of the perceived cost savings of going abroad by going to automated molding machines and finding the people domestically to produce for you, and they were right," said Armstrong. "We have so much more flexibility and the ability to communicate ahead of time in our own language and in our own country to really flesh out these designs ahead of time. So, you don't have false starts and you don't have to maintain incredible amounts of inventory. 
"We've been American-made ever since the beginning," he continued. "We never actually did make anything in China, except for a couple of Chinese projects where it was a requirement to have it made in China. Otherwise, we are made in America for America." 
A Little Help Goes a Long Way
Rich in originality and ambition, what the fledging group lacked was the wherewithal to buy and operate its own foundry, and hence they went forward on a foundation poured in partnerships. In its then-evolving model, Iron Age performed and still executes its design work in-house with CAD and Solidworks, then hands off projects to either a patternmaker, fabrication shop or foundry as need dictates. Virtually everything from a manufacturing standpoint is outsourced.
Meanwhile, onsite, the company operates its own warehousing as well as finishing work, including patinas, powdercoat, and "oil baking" its castings with repurposed restaurant fry oil, similar to the process of pre-aging a cast iron pan. And Iron Age is cooking on the front burner today, doing about $7 million in business a year with 17 employees. 
Offsite, Iron Age's products are poured in class 30 gray iron, ductile iron (6545-12), aluminum alloys including 319, A 356 and 535, and bronze alloys such as C 87500, silicon bronze and C 99700, aka nickel bronze. Armstrong noted they'll readily adapt to whatever alloy meets the aesthetic and function demands of the customer, for a price. It's the engineering brain-teasers, that he enjoys most, and he knows he's in trustworthy hands with AFS foundries that are experts when it comes to the most difficult of project puzzles. 
Acquiring reliable metalcasting partners was, in fact, the reason Armstrong and Iron Age CFO Dom Watkins sought out AFS membership in 2017—on the advice of their acquaintance and vendor, AFS member Steve Morel. The company leverages AFS trade shows and networking opportunities to build its channel of foundry suppliers continuously, and while always interested in expanding its list, today Iron Age chiefly relies on Morel Industries (for bronze and aluminum, as well as highly customized or one-off jobs); AFS Corporate Member D&L Foundry (big iron castings like tree grates); as well as Travis Pattern and Ironworks and Romac Industries, both of which make the company's standard smaller iron trench and drain grates. 
With good partners and resources comes quality work as well as services like flow analysis. To Armstrong, the value of a foundry's engineering collaboration has no equal, and, he added, his examples have no limit.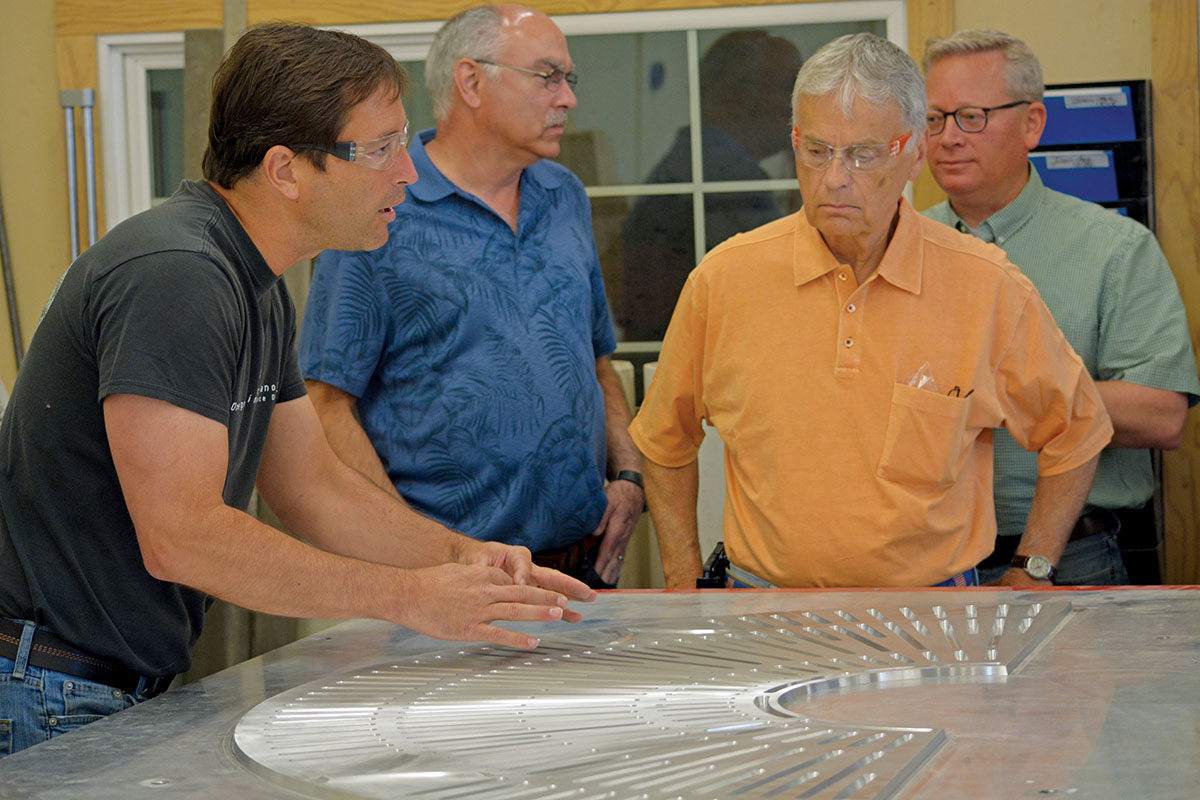 "The folks at the aforementioned foundries work in close collaboration with our internal design department to tweak all sorts of things on basically every pattern to ensure it will run optimally within their system. As you know, each foundry is very different from the next; there are sand differences, parting line/crush preferences, draft angle preferences, fillets, outside corner radii, level of polish on drafted surfaces, the list goes on and on. With the amount of new and unique custom work we do, this is a constant learning curve that is really part-specific for us. 
"The benefits of AFS have been the relationships we have developed with our manufacturing partners," Armstrong added. "We have found them to be helpful, knowledgeable, and always interested in figuring out whatever puzzle or problem we can throw their way."
Positioning in the Marketplace
Boasting two warehouses in Western Washington but tucked, as a staff, in one modest floor of a small office building on Puget Sound just south of Seattle, Iron Age has no struggles establishing itself as a premier contender in a narrow industry where just five or six companies compete. Armstrong attributes their marketing muscle to three key strategies: 
Iron Age puts itself in front of prospective customers through major industry trade shows and industry-specific magazine advertising, including "Landscape Architecture." 
Its biggest avenue to market, said Armstrong, is through a network of eight sales representatives working regionally with landscape architects, civil engineers and wholesalers throughout the U.S. and Canada. 
The company's more covert and long-range focused marketing strategy is the development of accredited continuing education video courses and other carefully scripted, topic-based video productions.
Armstrong himself takes the lead as presenter in these instructional video projects, where he aims to fill in knowledge gaps for specifiers and young, less experienced CAD design engineers. 
The first program, "Decorative Metal in the Hardscape" is available on AEC Daily, and the second class, "Digging into Trenches," is nearing completion through the AIA and ASLA accreditation processes. 
"That's the stealth marketing that establishes you as the authority in a given area," he said. "And if they have a question about something, they're going to say, 'Who are those people who know so much about this? I'm going to call them before I'm going to call anybody else.'  That's the value we see in the ongoing education.
"It's helped us establish a lingua franca among the specifying public and our industry," he added. "Through these classes, we can convey some very common-sense concepts, and that has been very satisfying to see take hold." 
Trends and Trepidation
With as much design depth as Iron Age has to offer, the current trend among its customer base toward simple, clean lines that barely exceed utilitarian is slightly surprising. Currently, its "regular Joe" grate patterns—"the plainest of the plain," Armstrong said—are offered in more size iterations than any other design. "And riffs on that pattern family, like our "Rain" pattern, are our fastest growing segment of our line. This will change of course, as tastes change, but it is interesting to see what sticks and what doesn't design-wise." 
Functionally speaking, another trend finds clients routinely specifying for a strange dichotomy that balances the dainty with heavy duty. On the one hand, most everyone is demanding heel-proof drain grates with 0.25-in. maximum width, which Armstrong said can quickly become drain proof if holes are too tiny. At the same time, on the same project, specifiers are calling for H-20 load conditions.  
"They may have a pedestrian plaza that needs to anticipate garbage trucks, or semis or fire trucks—but it will drive you crazy!" said Armstrong. "I'd like to say 'pick one, but not both!'  That said, it is a trend where these public spaces in denser urban areas need to be able to anticipate and accommodate multiple users and differing demands that on the surface would seem diametrically opposed to one another."
One current trend distinctly not unique to the making of drain grates is the rampant shortage of just about everything everywhere.
"That's the way of the weird wild world at the moment," said Armstrong. "The only saving grace is that we are all in it together; everyone, in one way or another. So the general demeanor out there is a level of equanimity and acceptance of what can't be changed right now. Kind of like when we all holed up during COVID and worked from home, and had executive Zoom meetings with kids and pets in the background. It just is."
Like most executives, he has his share of wakeful nights, processing the cares of both micro and macro business and economic issues. 
"A lot of times, it's job specific, you know, and you wake up in the middle of the night—you're worried about this or that," he said. "But zooming out, I do worry about the costs of everything rising to a point where the macro market reacts and things start seizing up. So far that hasn't happened, but unless something gives on the cost side of things, demand will have to take a hit at some point. Customers might start saying, 'Well, I've got to shelve this until I can afford it, or I have to cancel this project. Right now, the pipeline is still full from funded projects, but under what economic conditions does that continue? That's what I worry about looking at the next nine, 12 or 18 months."
Iron Age Designs carries no debt, so it is able to eye the future with more confidence than concern. Encouraged as more members of the team return to the office, Armstrong is eager—inflationary boogeyman notwithstanding—to resume some sense of normalcy.
"Sometimes you eat the bear, and sometimes the bear eats you—sometimes we make money on projects and sometimes we lose, but we learn every time," he said.  For me, coming out of this COVID environment, I'm really looking forward to getting back on the road and plotting out the second of our two classes. That's what will till the soil for years to come in terms of awareness and brand loyalty."
Click here to view the article in the digital edition of September Modern Casting.