Woodland/Alloy and Its Promising Future
Building on a successful past, the Wisconsin facility is moving forward under a new generation of management.
AFS Corporate Member Woodland/Alloy Casting Inc. (Racine, Wisconsin) is conscious of its past and the foundation laid by its founder and Chairman of the Board, Hank Adams.
Originally beginning in Woodland, Wisconsin, in 1986, the operations were moved to Racine in 1994 after an acquisition was made.  Woodland is starting its 34th year in the aluminum casting industry and employs 80 people. The legacy and fundamentals of the company are not only important to Hank Adams, but the next generation as well.
Five years ago, the succession plan was put into place and three of his children began what will be their legacy. Hank Adams was named Chairman of the Board, leaving the title of president to his oldest son, Mike Adams. Daughter Michelle Anfinson was named vice president of administration, and Hank Adams' youngest son, TJ Adams was named vice president of operations. 

"To us, Woodland is more than a business, it carries our father's legacy," Mike Adams said. "He gave us all this great opportunity and we need to honor that."
Woodland currently has two plants within four blocks of each other, with a combined square footage of 135,000 sq. ft.  Complex, highly cored castings are their strong suit. Plant I houses the aluminum foundry, core room, air set molding cleaning room and the original heat treat operation. The highlights of the foundry are the cope and drag lines which consists of one set of CT-3 molding machines and one set of CT-7 machines. They can run a flask size of 26 x 26 up to 36 x 50. Other molding lines include squeezer and rotolift machines, giving Woodland the capability to meet its customer requirements.
Plant II is a large casting processing facility including nondestructive testing equipment, a coordinate measuring machine and targeting/qualifying fixtures.
Recently, a second heat treat operation was installed consisting of three 65-in diameter solution furnaces and an 8 x 12 ft. walk-in oven.
The Benefits of Investment
A key tenet of Woodland is adaptability.  It is important for a business to meet the needs of its customers and the direction of the market to keep a competitive edge. One area the company recognized as a capacity issue was heat treating, and the decision was made to add a second operation. This investment allowed the company to process larger castings and led to more efficient processing.  The benefits include reduction in material handling, energy efficiency, and an overall reduction of CO2 emissions.
Several other areas have been upgraded over the past five years as well. Investments have been made in a continuous mixer for increased core production and an automated muller with an updated sand system. A second 3161 rotolift molding line was recently added for increased production. Building maintenance has also been a priority with a new roof installed over the air-set and foundry work areas, as well as an upgraded compressed air system.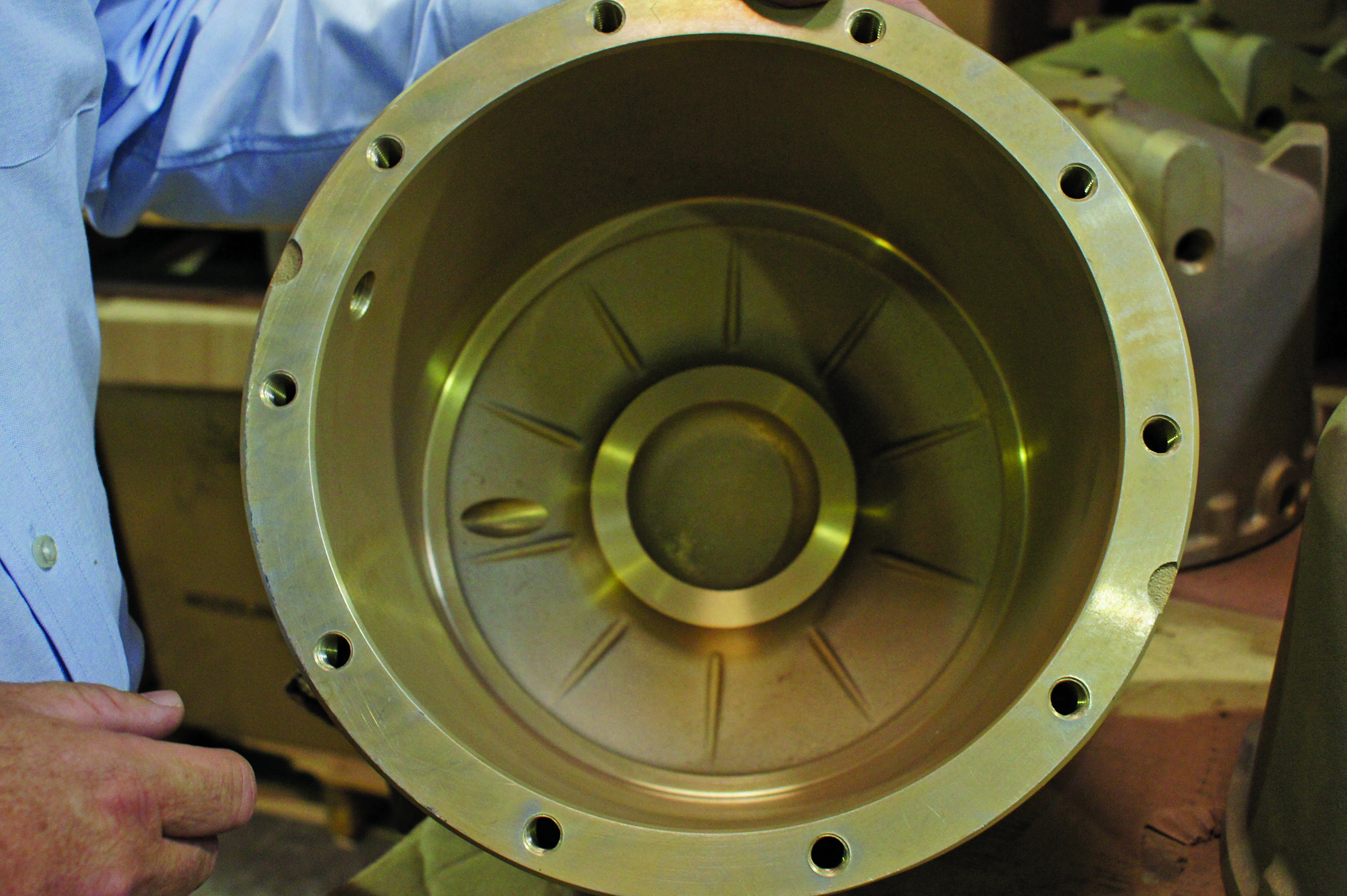 "It has always been important to us to keep reinvesting into the company," TJ Adams said. "It is basically the 'pay me now or pay me later' philosophy."
The value of these investments is apparent. Previously, where there were questions of Woodland's capability, these additions have alleviated customer concerns.
The recent facility improvements lend themselves to a growing market. While Woodland has always produced complex castings, their future is heading toward large, more complex castings. Research and development projects include working with key customers on 3D printed patterns and prototyping complex castings with 3D printed cores.
"There is only so much money to invest, so you have to invest where the gains are the largest," Mike Adams said. "I always look for where there are bottlenecks and that tells me what the next problem is to attack."
Mike and TJ Adams recalled how they brought in a prospective customer who was questioning whether larger castings were possible. After taking them through the plants to view the foundry's capabilities, their concerns were eliminated.
"When you walk through the plants and show customers the large pieces of equipment, it makes them feel more at ease about doing that type of work," Mike Adams said, "As you continue to work these larger projects, that's the equipment you need."
The Philosophy
"We have always been very diverse in our customer base," Anfinson said.
This philosophy has served Woodland well. It is not reliant on any one sector, and produce castings for markets such as aviation, electrical, power distribution, boiler units, railroad, nuclear, marine, military, and industrial valves. The reason is simple: Woodland does not want its success to rely on a single sector.
"We're a job-shop. We have to continually adjust and go where the marketplace takes us," Mike Adams said.
Diversity also means Woodland doesn't invest in new equipment to satisfy one customer: it needs to be for the greater good of the company as a whole. The company is strong financially and is always conscious of its bottom line.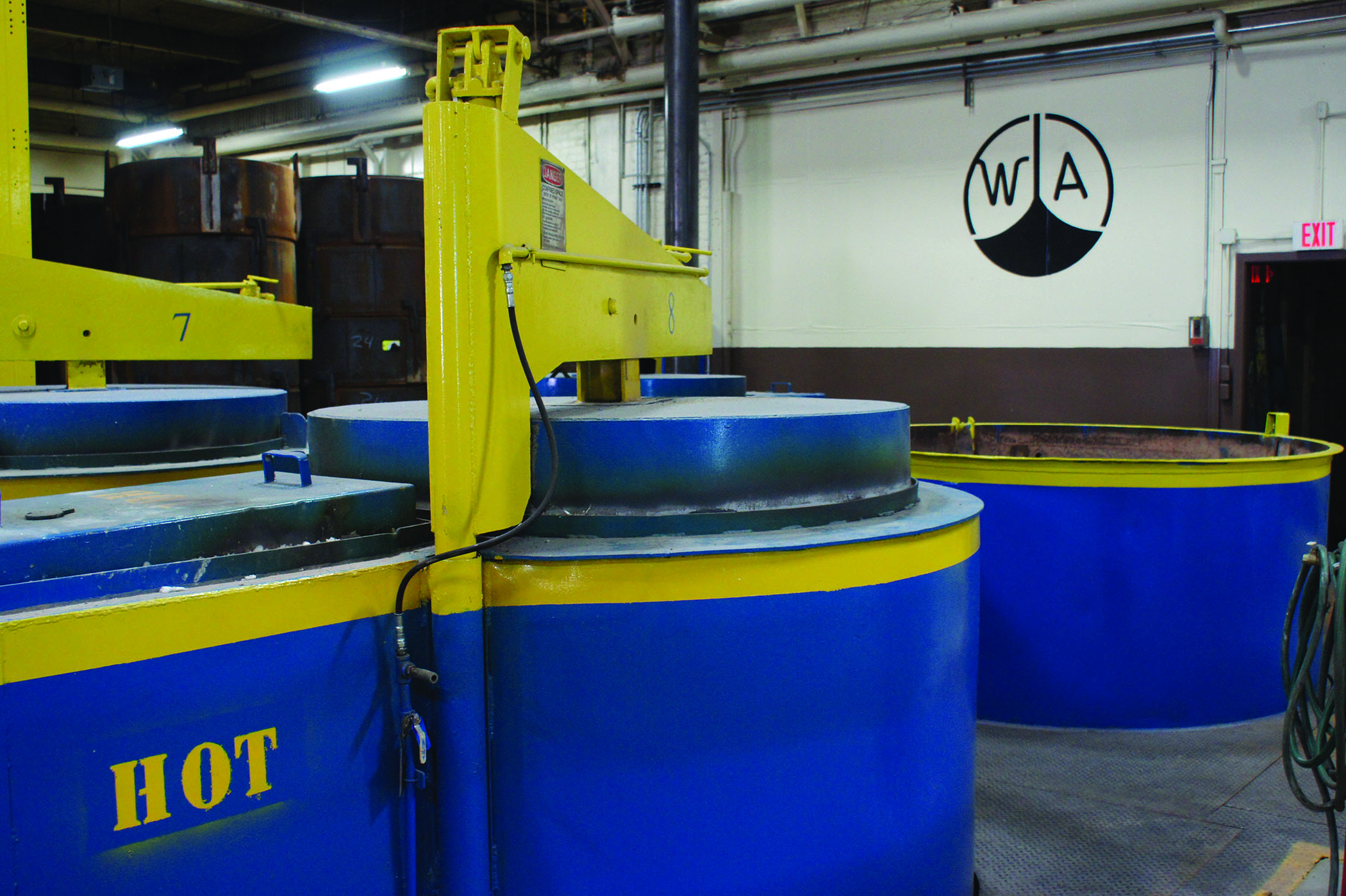 It's clear that large castings with tight tolerances are a key part of the company's future strategy.  With this also brings areas of concern that need problem solving.
To do this, Woodland relies on its key personnel and employees to share their ideas openly.  
"If you're working on getting a new project started, a long-term employee's experience and expertise can go a long way," Mike Adams said. "Often, the guys that are doing the work can figure out a better way.  You have to take those ideas into consideration and listen to what they are saying.  When you listen to them and you start using their ideas, they start expressing more, and the more ideas you get, the more you grow as a company."
Moving Ahead
While all three have very different roles, Mike, Michelle and TJ are all doing their part to insure Woodland's continued success.  They respect the company their father built and credit him for a culture that is always looking ahead. Hank Adams' children are glad to have him as a resource.
"He is someone you can trust. There are a lot of times we sit down and talk about a problem or something else with the business," Mike Adams said. "If you have a resource like my father, who's been doing this for 55 years, how do you not take advantage of that?"
Hank Adams' office is in Plant II, which in some ways is symbolic for the company.
While Hank Adams built Woodland/Alloy from the ground up, he is located where it can continue its growth. He's proud of where the company came from and where it is going under the current leadership. It's clear Woodland's second generation has a bright future in attaining goals and is not forgetting its core philosophies. 
Click here to see this story as it appears in the December 2019 issue of Modern Casting.