‹ Back to Columns
Pardoning the Mistakes
Good training ensures employees are doing tasks uniformly and helps keep processes under control. It also helps employees understand why certain methods succeed and others will fail. A good foundation of training in their jobs gives employees confidence in their ability to do the job successfully. Which leads to another critical aspect of employee performance that can sometimes be lost: problem solving.
Good problem-solvers feel empowered to make decisions. What they don't do is fear retribution for a mistake or wrong decision.
When I visited AFS Corporate Member LA Aluminum (Hayden, Idaho) this summer and spoke with its owner, Robert Oswald, he talked about what it was like to help his parents move the foundry from California to Idaho as a teenager and then to take on full leadership at 27. He admitted his parent's generation wasn't much into training, and I'm sure they had little time for it while they were building a new plant in a new location. They told him what needed to be done and left it up to him to figure it out.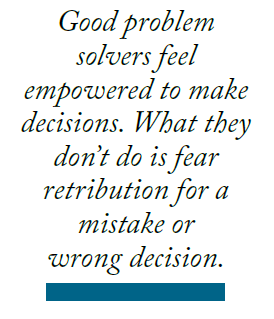 At first it sounded heartless and unhelpful. But then Oswald pointed out the freedom in this approach: "It was easier to ask for forgiveness rather than permission."
How true is that today, in your business? Some things absolutely need permission. Employee health and safety can't be at risk, for instance. But in other aspects of the operations, when you encourage employees to be more engaged and empowered to make changes on their own, what is your reaction when the employee's decision fails? Or, what reaction do your employees expect if they fail? The expectation of retribution or chastisement is just as detrimental, even if there's no basis for it.
I was reminded of a visit to AFS Corporate Member The C.A. Lawton Co. (De Pere, Wisconsin) last year. The iron foundry was going through a major overhaul of its company culture, with an emphasis on lean manufacturing methods. It set a goal of employees submitting 3,000 ideas to improve the business in 2018. They met the goal by September.
CEO Alex Lawton said he felt that for his company, lean was the most democratic approach to management he had found. "It's setting up the parameters and within those parameters, folks get to figure it out. And it's continuous. It may turn out that in 6 months, the change is not all that better than before. So figure out another way. It's OK to not be right all the time. That's what we're trying to break down and build back up."
Lawton admitted achieving and maintaining that level of understanding is difficult, but the payoff has been a foundry staffed with experienced problem solvers and idea generators.
No one specific way is the best way to manage operations. But if you strive for employee engagement, remember to pardon the failures and avoid overpraising the successes. As Pro Football Hall of Fame coach Don Shula once said, "I didn't get consumed by losses. And I didn't get overwhelmed by successes."
This same approach could be applied to running a business or managing a team.
To read more about LA Aluminum's permanent mold business, see its profile on page 18. The article on page 23, "Inside Failure Analysis" addresses how to determine what happens when a part failure takes place in the first place.
Click here to see this story as it appears in the September 2019 issue of Modern Casting.