Facing Value
On a scale of 1 to 10, where do you rank your foundry in terms of value-added services you offer customers?
Not customer service, mind you. Not how politely your phone is answered, how diplomatically a complaint is resolved, or even the speed with which you turn around a quote––but how much honest-to-goodness value-add are you providing that's above the normal core competency of pouring metal or making molds? What's your value-add that truly adds value for––and is driven by––the customer? 
While you think about that, consider a growing trend among casting buyers over the last five-plus years that's been changing how some foundries approach the delivery of value-add. As it happens, many are discovering customer expectations have continued to multiply, and manufacturers no longer want to manage the figurative bus route of their parts orders from vendor to vendor.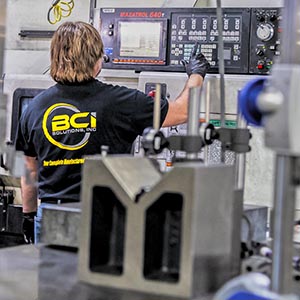 Instead, buyers are increasingly looking to their foundry of choice to shoulder more risk and do whatever it takes to deliver a completed part. Period.  
Call it value-add or call it business survival, but some in the industry are witnessing a "do it or lose it" proposition as OEMs and numerous big industries adopt a belt-tightening, hands-off mindset about the making of their components. Chucking a DIY approach, more and more buyers are choosing instead to trust the foundry with greater responsibility outside of the traditional foundry scope, including sundry project hand-holding from start to finish. 
"Right now, especially coming off the last four to six years, we're in a position where buyers are wanting to buy a complete part," said Steve Shade, who's responsible for sales and quoting at AFS Corporate Member and prototype shop Craft Pattern & Mold in Montrose, Minnesota. "They don't want to screw around with managing all these things––they're willing to pay somewhat of a premium for those value-added services, within reason and being competitive; but I see that continuing. People want to place an order, hit the button, and it shows up three weeks later."
That's more or less what happened at AFS Corporate Member Non-Ferrous Casting Alloys (NFCA) in Norton Shores, Michigan, a sand casting company. President Randy Dalman said one key account used to buy castings from his company, then drop ship them to a machine shop, then to a coating source, then to the end user––until they realized they didn't have to.
"They just wanted to place a single point of responsibility," Dalman said. "And they chose the foundry that had the most added value and said, we would like you to manage all these services and sell us parts ready to assemble ... It put all the responsibility in one bucket and took a lot of risk away from the end customer. There's a lot of responsibility and a lot of control on whoever is the chosen source––and in a lot of cases, it's the foundry."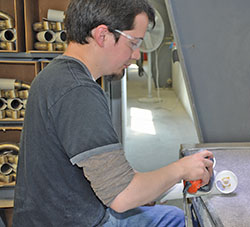 On more than one occasion, JB Brown, president of BCI Solutions in Bremen, Indiana (formerly Bremen Castings), also an AFS Corporate Member, has experienced similar assignments from customers who just don't want the hassle of myriad POs, tracking numbers and finger-pointing. Having one point of contact, one provider that "gets [@#$%] done," Brown said, is the new priority. BCI makes iron castings in green sand molds.
"I've heard so many buyers or sourcing managers say, 'I don't care where you guys get it from. You guys are ISO, you guys are IATF-registered––it's all in your hands,'" Brown said. "We just supply them an end product that goes to their assembly line or it goes to their warehouse distribution center. We give them what they want, how much they want and when they want it." 
Clearly more than a helpful gesture, value-add is seen today as a way to remove burdens and distractions from the customer so they can focus on their own core mission. And the more value-add services the foundry is willing to undertake––whether performed in-house or by managing outsourced services––the more opportunities they'll have to acquire new work, build more trust, diversify their own business, and increase profitability.  
What's In It For You?
Many in the metalcasting industry provide some first-rate, basic value-adds like painting and other finishes, while others have tread into machining as well as 3D printing/prototyping and more. What foundry leaders who have expanded their value-add services agree on is the soft relationship benefits and hard ROI numbers that prove they're doing the right thing.
At Craft Pattern, Shade called value-add 100% critical, giving the company a big competitive advantage. "[That] portion of our revenue constitutes a very large percentage of our sales," he added. "It's really what ties everything together ... The casting ends up being a very small percentage in the end."
At NFCA, Dalman quantified one segment of value-add this way: "We've got over 100 billable customers, and I would say we probably have 10 customers that are actively purchasing finished products from us." 
Similarly, Jacob Robben, marketing director at the investment casting AFS Corporate member, O'Fallon Castings, O'Fallon, Missouri, said subcontracted value-add services represent 10–15% of the business's revenue.
And for Brown at BCI Solutions, value-add is like lifeblood. 
"It's a gut feel, but I don't know that we would be in business today if we as a company did not start a machine shop in 1996," he said. "We were 100% casting sales back then with some tooling, sales and some other things ... we just closed our [2020] year and our machining sales [alone] are probably 37% of our revenue.
A Picture of Painting 
Back in 1947, the newly founded LA Aluminum, a permanent mold facility—started in Los Angeles and moved to Northern Idaho in the '70s––outsourced painting and other finishes because local vendors were plentiful in a small vicinity, said Sarah Oswald, sales and marketing manager for her family-owned, AFS Corporate Member company. But once it relocated to the new, remote environs in Hayden, Idaho, value-added finishing was brought in house for want of other options.  
"When they built these buildings, they started by installing the chromate conversion [area] almost immediately and a few other finishes at that time," said Oswald. 
"It wasn't until 2011 that we installed an in-house powder coat system," she said. "That was driven by a customer requirement for flawless powder coat finish that we were using local vendors for––but they were really struggling to achieve the results desired by the customer. It was a painful time. They'd bring back a truckload of, say, 60 parts, and we would only be able to accept maybe two ... it was terrible."
Finally, LA Aluminum pulled the trigger to bring powder coating inside where they could control quality and achieve better results for their dental equipment customer. And it's still the dental and medical equipment industries that require some of the most rigorous finishing standards. 
"They call for a really smooth, flawless powder coat finish," said Oswald. "That means there can be absolutely no defects that are often inherent when you powder coat castings––there is also often a tight tolerance on mil thickness, so you can only have so much powder before you have to sand it all off and start again. They also require absolutely perfect cosmetics––so no air bubbles, pinholes, fish eyes; you can't have a single blemish or flaw on the casting itself. It's super challenging." 
Every industry they serve naturally has its own strict demands. Medical and dental equipment tends to require a powder coated finish for sanitary reasons, so germs are easily removed between patients. Aerospace and automotive often require chromate conversion, which gives extra protection to the casting. And, Oswald said, military accounts often call for anodized finishes, usually to a specific color such as gold sand for camouflage. While the powder coat service has remained in-house, LA Aluminum subcontracts chromate conversion and anodized finishing these days. They also offer bright dip, sandblasting and bead blasting.
Like Shade, Brown and Dalman, Oswald affirms today's growing customer trend that's putting foundries in a lead role to deliver a more complete product.  
"Overall, many of our clients appreciate having a single-source, turnkey product delivered," she said. "I feel like we can be competitive by keeping many value-add services in house especially. Back in older times, foundries would only be a foundry, but progressing to modern days, a lot of foundries have an in-house machine shop and other finishing services. Customers are growing to appreciate that [their job] doesn't go from place to place to place––in those scenarios, it's really hard to control quality, and it's really hard to determine who did what and whose fault is that error. We're also saving them money, as well."
Many Ways to Enter
Foundries considering the addition of a new value-add service won't lack for variety in the options most desired by casting buyers––a veritable catalog of value-adds exist, some in-house and some outsourced to trusted partners.  
In addition to many finishes/coatings, Oswald's company offers a host of other value-add services today: It has a machine shop and tooling, makes its own tooling in house, and offers light assembly, pressure testing (e.g. for marine applications), hardness testing, impregnation, heat treat and materials certification, and drop shipment. 
Craft Pattern pours on the value-add with 3D prototyping, internal and external heat treat offerings, nondestructive testing (NDT) services, X-ray and penetrant testing, a variety of laser scan (dimensional) inspections, as well as painting and plating. It is also augmenting value with recently procured balancing equipment.
"It's been a bottleneck of ours," Shade said. "There's not many people that do it as a subcontract service, so lead times can be long, and it's expensive ... that really damages our ability to deliver to our customers. So, bringing balancing in house was a strategic move to help control that flow of work. 
"This really speaks to a lot of the value-added services we've added over the years," he added. "They're brought on strategically because there's a bottleneck––it's because we want to provide that one-stop solution for our customer in an expedited manner. Balancing is a great example of a process that was brought inside."
NFCA takes a full-circle approach, offering, for example, machining, tooling design and build, gating systems, sampling, X-ray, spectrometer testing for chemistries, pulling tensile bars, and hardness testing. Meanwhile at O'Fallon, Robben said his company focuses narrowly on subcontracting machining, assembly, and painting and anodizing.
BCI Solutions has a "complete manufacturing solution" mentality toward value-add, and their in-house machine shop is just the beginning. Their offerings also include tooling, assembly, bar stock, bar codes, plus packaging and shipping. A collaborative, no-silo engineering team takes the service of design to a high plane of value for customers, too. During a June planning retreat, the company identified a new "Rock," (aka opportunity/goal), Brown said, and over a 90-day period they'll be investigating paint and coatings as a potential addition to their in-house value-add services.
Think It Through
Rome wasn't built in a day; value-add won't be, either. While it's rewarding to make customers happy, the execution involved in adding one of these extra services is a lofty undertaking. 
Paint/powder coating and machining centers, just for example, require ample, dedicated square footage. To accommodate its many services, LA Aluminum has six total buildings on its property, one that's 5,000 sq.ft. just for powder coat. In 2010, BCI Solutions bought a second plant across the road––65,000 square feet on 13 acres––and invested $2.5 million to customize it to its needs.
Project management for subcontracted value-add is a major personnel factor. Hiring the right "traffic control" manager to own and oversee every outsourced service is critical for successfully shouldering customer orders, wherever they may roam. 
"Making the financial justification is probably the easiest," Shade said. "There are people with MBAs and every other kind of degree that can quantify that and give you a black and white answer. The hard part is the management of that schedule."
Consider too: Anyone can acquire equipment, but does your company possess the expertise needed for the value-add you're thinking of tackling? Will the returns cover new payroll and other investments? Can your foundry perform the value-add with cost-effective processes? Oswald would add, have you listened to customers, heard their clues or asked them directly what void you may be able to fill?
Brown recommended doing your homework and having the data to support your decision-making. Your own passion and the passion (plus buy-in) of your team must also be present, he said. Dalman's No. 1 advice is to make sure you're building a quality, reliable network for those services you'll outsource. Oswald said it is a good idea to keep subcontract partners within close geographic proximity as much as possible. And Robben reminded to always include everything in your quote for a value-add, "like shipping and attrition ... so you're adequately covered and that it's a profitable endeavor for you."
"Know what you're getting into," Shade said. "If you look at it at face value only, you may say, 'Sure, we can make another 20–30% in sales.' But if you're going to lose your shirt doing it, does that make sense? No."      
Click here to view in the July 2020 digital edition.