What is CRM?
How can a foundry use it for better customer relationships and keep on pace with technology trends?
The goal of having a Customer Relationship Management system (CRM) is simple: document the sales process, build a relationship with customers, and improve customer retention. CRM is a strategy for managing relationships and interactions with both customers and potential customers—then staying connected to customers, streamlining process and improving profitability.
CRM is a process for tracking information on prospects, proposals, customers, and sales. The tracking can be done manually through a checklist or spreadsheet—or digitally. For digital CRM products, there are stand-alone options as well as options that integrate with your current technology, some Enterprise Resource Planning (ERP) systems even include built-in CRM.
CRM is useful to track prospect information (company names, address, company social media profiles, individual contact names, email addresses, etc.). It can be used to initiate and manage marketing campaigns—drip email campaigns, direct mail campaigns, digital ad targeting campaigns, and all the combinations there of—as well as sales activities such as meetings and requests for quotations (RFQs). CRM can improve your sales prospect's experience of your company pre-sale by: streamlining communication through integration with your email provider, improving communication with sales stage tracking, and helping your sales team close the deal faster.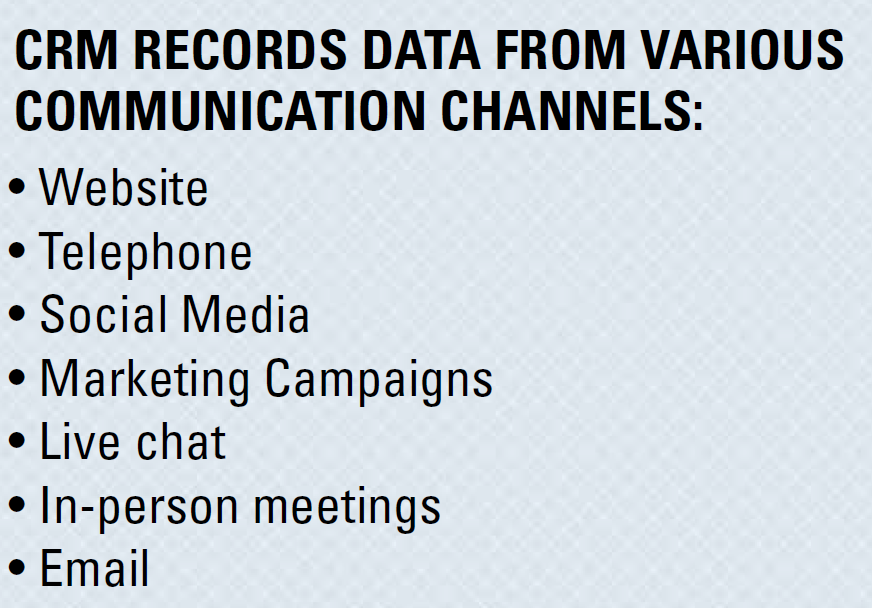 After the initial sale, CRM is useful to maintain and track customer sales information (individual contacts and roles, sales process notes, payment status, etc.). It can also be used to improve internal communications on customer concerns and issues. CRM can be used to improve the customer experience of both your brand and your company by: tracking activity, tracking goals, improving efficiency in servicing customers and creating more intuitive and transparent customer relationships. There are different levels to CRM in terms of both technology and what your company's work processes are ready for.
Level One: Customer Data Management (aka Tracking Who, What, Where, and When)
At the heart of any CRM are options for data warehousing and opportunity management. CRM simplifies the sales and marketing process by helping your staff personalize and customize relationships with customers regardless of which employee deals directly with the prospect or customer at any given time.
It starts with tracking information—manually or digitally—about the customers and prospects. Company. Name. Contact specifics. Recent meeting or opportunities notes. Then making that data warehouse of information available across your sales and marketing team. Digital systems lend themselves better to multi-person teams. Manual systems can be digitally shared—hello, Google Docs, and Office 360—but can be cumbersome to work with.
CRM improves the customer's experience with your sales team and impression of your company through personalization and customization of the relationship, regardless of which sales staff deals directly with them at any given time.
Real-world scenario: A key sales staff member leaves. But, because contacts and notes are warehoused in the CRM, new sales staff can maintain the trust in your company by picking up the sales process and completing the sale.
Level Two: Benefits of CRM With ERP (aka Increasing Workflow Automation)
Relationships are built on two tiers: knowledge and trust. Customers are attracted to and loyal to companies they can trust. CRM technology can help you build trust with both prospects and customers by delivering knowledge about their current and potential needs, even more so when the CRM information is married to the business intelligence of an ERP. The merge of ERP's back-office functionality with the customer focus of CRM allows a seamless pass-through from marketing to sales and on through to customer service.
Having a single platform for both ERP and CRM creates numerous efficiencies and additional opportunities to provide value to customers. The combination of ERP and CRM allows for the integration of documents, emails, job notes and scheduling. Enhanced customer knowledge benefits might include:
Improved inquiry and customer response times.
Providing real-time data on orders and inventory by customer.
Improved financial management and reports.
Access to customer metrics for sales staff.
Integrating CRM capabilities with ERP business intelligence capabilities enables your staff to give customers a digitally enabled experience. With this level of increased staff knowledge into customer behavior and need, manufacturers can use real-time data from these integrated systems to offer solutions specific to customers' needs.
Real-world scenario: There is a production issue. From the ERP software, customer service staff is alerted to the update in shipping time, allowing them to pro-actively contact the customer for better supply chain planning via ERP or CRM. (This type of activity can even be set up as an automatic email notification in some ERP systems.)
Level Three: Technology Trends and CRM (aka Improving the Customer Experience Through Technology)
Technology is making inroads into CRM (and ERP) capabilities and improving the options available to users.
Mobile is not just an expectation but a requirement for your sales staff, they expect to be able to access and update customer information wherever they are. The CRM benefit is this allows all your staff, regardless of location, real-time data updates on customers.
Conversational Artificial Intelligence-powered CRM is on the rise, meaning data flows from more sources, including website chat bots. Some CRM systems even harness automated phone sequences for prospect screening or the initial phases of customer support activities. The CRM benefit is the freeing up of the valuable resource of employee time.
Access to deep wells of data in the B2C sector has given rise to hyper individualism in marketing and increased personalization expectations among customers. Customers now expect your marketing materials to be personalized to them and their needs. The CRM benefit is freeing staff from managing the details of information while still having information available for personalization.
The Internet of Things (IoT) has, arguably, created a revolution in manufacturing technology. At its core, IoT collects useful operational data using various existing technologies. Examples of IoT to ERP integration might include: sensors reporting production output or PLCs attached to operational equipment delivering real-time data. That IoT data can flow to your ERP or CRM system. It's the connection of useful data to technology which creates the system synergy. The CRM benefit is that IoT data becomes a content relative channel within your CRM data frame.

Real-world scenario: Your salesperson enters an order via a voice command on a mobile device from a customer location. IoT enabled ERP knows if you have that in stock and generates a confirmation order to the customer, before your salesperson leaves the customer's parking lot.
Conclusion
Your customer relationships are built on trust. Winning a customer is about them trusting you to deliver on time, to provide the quality of product you promised, and to invoice at the price you quoted. Your CRM helps your company create positive customer interaction, build loyalty and forge strong relationship. Great business relationships impact customer satisfaction and drive customer loyalty as well as creating a competitive advantage.
What is your strategy for managing relationships and interactions with customers and potential customers? Should CRM be part of it? And, if you aren't using a CRM system yet, what are you waiting for?  
Click here to see this story as it appears in the November 2019 issue of Modern Casting.