Small Business, Strong Business
Tonkawa Foundry has been a successful small business through seven decades by sticking to its strengths and staying on top of modern industry trends.
AFS Corporate Member Tonkawa Foundry (Tonkawa, Oklahoma) has faced its share of challenges. It saw 85% of its work in high nickel alloy submersible pumps move overseas in the late 90s, suffered a damaging fire in 2015, and like many small foundries, is charged with solving complex regulatory standards with the ingenuity of a small staff used to wearing many hats.
"I joke a lot about the fact that none of our education and training allows us to do this," said CFO and co-owner Sandy Salisbury Linton. "None of us are metallurgists, but over time we've absorbed a lot of knowledge and have been blessed with some very good sources of support. I grew up with the foundry and listened to my brother and dad."
Co-owned and run by siblings Sandy Salisbury Linton and Jim Salisbury, Tonkawa Foundry was started by their grandparents in 1950 and has stayed in the family ever since. Linton went away to school with little intention of returning to metalcasting or the small town of Tonkawa, but family obligations pulled her back. After serving as a caregiver for her ailing mother and then grandmother, Linton joined her brother at the foundry. Forty years later, Linton and Salisbury are both at Tonkawa, continuing to produce quality iron castings and provide jobs for 37 people in the sparsely populated Kay County, Oklahoma (population density: 51/sq. mi.).  
"A lot of the reasons why we are able to do what we do is through connections made in the industry," Linton said. "When my grandparents died, I had to step up and learn things."
Changing with the Times
Sitting in the open bullpen area of the Tonkawa Foundry office, Linton and nephew Josh Salisbury discussed his progress in learning the plant's scheduling and planning system. For decades, all scheduling has been planned by COO Jim Salisbury, and now it's time to for someone else to know the ropes, as well.
Jim Salisbury, who has been working at Tonkawa for over 40 years, has no immediate plans to retire, but that day will come eventually, and the team is starting to prepare.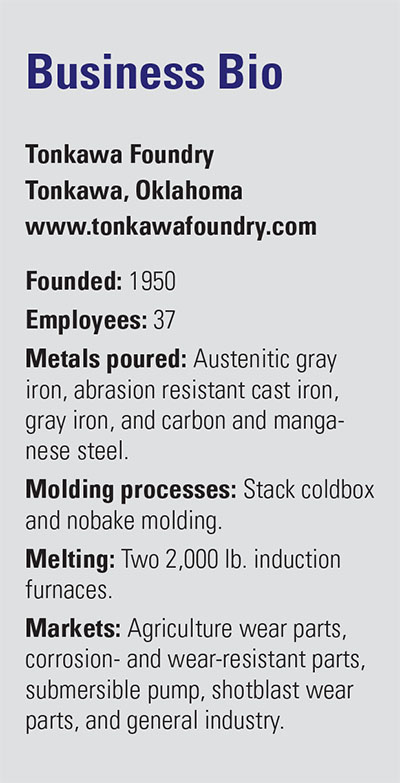 "Josh knows exactly what happens out there in the foundry," Linton said. "I think it's a perfect fit for him. It's needed and maybe he can offer some ways to improve with a new set of eyes. He has a big task in front of him taking TFI into the fourth generation."
The undertaking includes creating the production timetable for Tonkawa's cold box stack molding line and nobake molding line producing components in Ni-resist and abrasion-resistant irons as well as low-alloy carbon steel and manganese steels. The foundry can make castings at a wide range of volumes, including high volumes of small castings where multiple parts are produced per mold. It makes its own cores and offers some assembly.
The product mix is more varied than it was 25 years ago when the foundry almost exclusively produced submersible pump castings. When those castings were moved offshore, Tonkawa Foundry had to make major decisions about its future.
"The last thing we felt we could be was a competitive gray/ductile iron shop," Linton said. "That market is so competitive. Plus, ductile iron and nickel or chrome don't go well together."
Rather than completely change its furnace and metallurgical setup, which was designed and fine-tuned for high nickel alloys, Tonkawa looked at which alloys worked well with its existing setup and potential markets for those alloys. White iron and wear resistant parts fit the bill.
"Since we spent so many years knowing nickel and chrome, we just ran with that," Linton said. "The nickel and chrome alloys match up well with the same lining in the furnaces and the same temperatures."
Eventually, the team also determined the foundry could add low alloy steel to the menu.
"We found some steels we can use in the same furnace, where with ductile iron, that wouldn't work very well," Linton said. "Everything is certified per heat and we don't pour anything that is not in spec."
Now Tonkawa splits its production evenly among agriculture, shot blasting and general industry. Its mix is unique, meaning very few places in the central U.S. at Tonkawa's size range pour these alloys.
"I think it has been smart of the family to steer away from the competitive, traditional iron business," Linton said. "The pump business was very niche and not easy to do, and that goes hand in hand with what we are doing now."
Recovering From Disaster
Recouping an 85% loss in business is hard. A revamped Tonkawa Foundry was coming into its own when another devasting blow came. A furnace fire in January 2015 caused by a significant technical failure took down the foundry's melting power supply and two furnaces.
Linton and Salisbury approached the recovery effort as a team. Linton used her relationships established through her involvement with the local AFS chapter and on the national board to navigate dealing with the insurance company and finding ways to keep production going as much as possible with the help of nearby foundries.
"I am more aggressive about asking for help, so I usually ask questions, find a path, and then turn it over to Jim," Linton said.
Because of the fire damage, the melt deck had to be reconstructed. During the reconstruction, Tonkawa opted to raise the entire deck to be on the same elevation and located the power supply, workstation and furnaces on one level. The foundry worked closely with AFS Corporate Members EMSCO (Massillon, Ohio) and Inductotherm (Rancocas, New Jersey) which specialize in helping metalcasting facilities with a melt operations crisis, to establish and implement a plan.
"Eliminating the steps and relocating the power supply further from the furnaces was a significant improvement to our melt deck," Salisbury said.
The reconstruction added a second hoist to the deck, as well as another exit door and set of stairs. Tonkawa also added a dump-out pit below the furnace in case of failure.
"The space is a production improvement but also a safety improvement," Linton said.
The foundry was back in full operation just a few months after the fire, making and delivering quality parts to is customers.
Compliance and the Future
Today, Tonkawa Foundry faces a major challenge that will sound familiar to many small metalcasting facilities: complying with the OSHA's comprehensive silica standard that went into effect in June 2018. Tonkawa took the incoming regulation seriously and wanted to make sure it was making good faith efforts to meet the standard early on.
But for a small staff, it was hard to know where or how to begin.
"Government regulations, especially silica, are a big challenge for small businesses," Linton said. "We are addressing the new rule on an ongoing basis through worker training and education, as well as new and modified engineering controls."
Tonkawa team members participated in AFS silica webinars and the industry EHS conference to learn about the various aspects of the rulemaking and ways to meet the lower PEL level. Linton again used her industry relationships to help the foundry through a critical piece of achieving compliance: testing.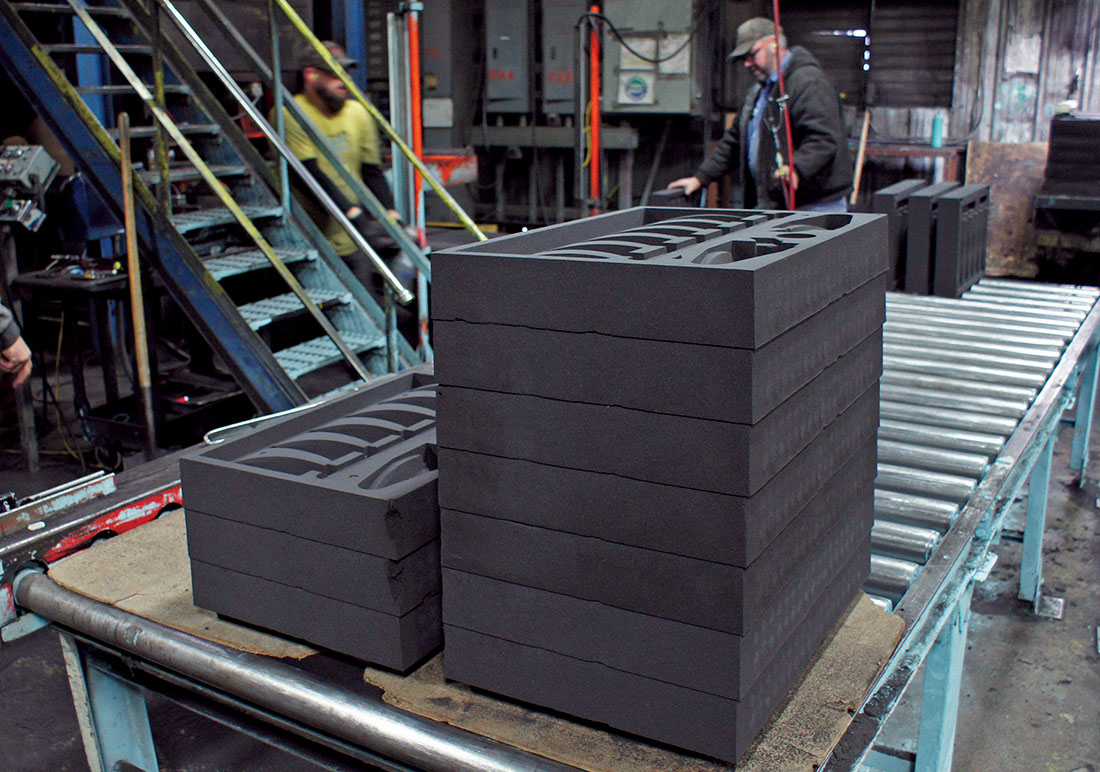 "I met another foundry person through AFS who had digested the silica ruling really well and he said he'd come over and help," Linton said. "His company gave permission, so he came over and walked through the plant, and I made notes. We applied almost everything he told us we should do. He also sat down and taught me how to order testing media from the lab and how to do the testing."
Our foundry lead person learned how to do the testing in-house, as well. So far, Tonkawa Foundry has tested numerous times.
Linton said the foundry is in good shape regarding silica compliance but will continue to reevaluate their program and make the necessary improvements to stay in compliance.  
"We are segregated buildings, which I used to think was really bad for production flow," Linton said. "But now I see it as a benefit because we can control each area separately, and that's what we have tried to do—take it departmentally, building by building. We are under the PEL in every area now, but we want to keep tightening up. The safety of our employees is first and foremost. "
Keeping a small business successful for 69 years takes hard work, the ability to learn on your feet, and the willingness to ask questions when you don't know the answer. The Salisbury family has been doing that for three generations, with the fourth generation now testing the waters. Through challenge after challenge, Tonkawa Foundry has figured out a solution.
"Longevity helps a lot, and Dad was kind of on the cutting edge of a lot of techniques and materials," Linton said. "We have found a niche; right now, we are very busy, and we'll keep going on while the work is there." 
Click here to see this story as it appears in the April 2019 issue of Modern Casting