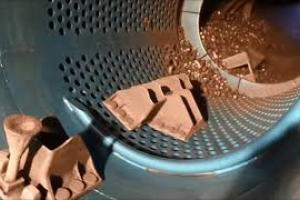 -Combines 5 functions in one easy step - Sand Casting Separation, Sand Blending/Conditioning, Dual Sand Screening, and Casting Cleaning & Cooling.
-Separates green sand from core sand and dramatically improves conditions.
-Conditions and screens the sand, eliminating the need to buy more equipment.
-Special lining for recirculating a burnished media to eliminate or greatly reduce shot blast cycle times, as well as provide a protective bed for fragile castings.
-Separates gates and flash from castings, reduces grinding and finishing time.
-Media and counterflow air cools the castings.
-Fully automatic feed of sand and castings, and variable speed for automatic degating eliminates hard manual labor costs.
-Significantly cleaner and safer environment with no air-borne silica dust.
-Clean remelt material reduces slag build-up and extends refractory life.
-Very low horsepower and lower dust collection requirements for reduced operating cost.
-No special foundation requirements for easy installation.