‹ Back to Columns
The First Pour
This week has been one for nostalgia. AFS acquired a vintage toy metal casting kit to make miniature soldiers and tested it out (with tin). The fantastic results were shared on social media to an enthusiastic response. Then, as I scrolled through LinkedIn, I saw Thomas Musschoot, president of General Kinematics, shared that he received another "First Heat" casting for his collection. If you haven't yet, check out thefinalshakeout.com showing photos of first pours, last pours, and other commemorative castings.
This is history to us now, but at the time of those first pours, the owners, managers, and workers were looking toward their future. Up ahead were orders to be won and opportunities to grasp.
The vintage first heat casting Musschoot received is from Harvest Foundry, poured February 28, 1911. Since then the number of U.S. metalcasting foundries grew to a peak and since has decreased. Yet new foundries are still built, year after year. One of them won Metalcaster of the Year this June (EJ in Warner Township, Michigan). Mueller Water Products will have a first heat casting soon from the foundry it is building right now in Decatur, Illinois. Opportunity and new business are still up ahead.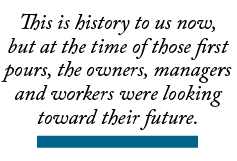 We completed our own "first heat," so to speak, this month with the unveiling of Casting Source magazine, a redesign and rename of Metal Casting Design & Purchasing. It's the culmination of many meetings, conversations, and surveys to give our readers the best content about building up and maintaining a quality casting supply chain.
Casting Source will touch on many of the same topics as before, but our new name better reflects the range of professionals who rely on castings in their company's applications, including design engineers, specifiers, quality engineers, and supply chain managers. Our aim is to address how to source the best cast parts, from choosing the material and manufacturing process to selecting a foundry to deliver the component.
In the pages of Casting Source, we'll talk about why casting lead times are sometimes long, how to work with a supplier to improve their scrap rates, and ways to adjust a design for reduced weight and cost. We'll also cover metalcasting basics, explaining the various processes and alloys and providing key points to remember and terms to know along the way.
And we are bringing this content through the words of people who work in the casting supply chain. More than ever, we are leaning on industry experts to contribute their insight and practical advice through columns, Q&As, and articles. 
The first "heat" is up online at www.castingsource.com. If you have any suggestions, or a story idea of your own, please reach out to me at swetzel@afsinc.org. And if you like what you read, let your customers know they can subscribe at www.castingsource.com/subscribe.
And if you do end up perusing General Kinematics' online collection at thefinalshakeout.com, while you are there, consider also donating to FEF at the button on the bottom. Supporting FEF students are crucial to keeping those first heats coming. 
Click here to see this story as it appears in the December 2019 issue of Modern Casting.