‹ Back to Columns
Let's Get Down to Business
Molten metal is cool to look at it (and a nice cover photo). Watching liquid hot metal being carefully and skillfully poured into a giant crucible is a pleasure many of you see every day, and for those not in the industry, it's a sight that will tickle the imagination. Foundries are romanticized a bit because of this, but a conversation with Mark Soucie, president of Ferroloy Inc. (Wichita, Kansas), reminded me: beyond the reds, oranges and purples of molten metal is a business.
Soucie came to Ferroloy (featured in this issue on page 14) just over two years ago from outside the metalcasting industry. He saw the business opportunity there.
"I wanted to find that opportunity, make an equity investment and then participate in the incremental value and growth of the business," Soucie said of his search for a business to invest in and his ultimate decision to go with Ferroloy.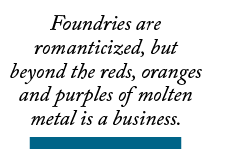 Bremen Castings Inc. (Bremen, Indiana), started a new division focused on assembly. J.B. Brown, BCI's president, saw it as a way to increase revenue.
"It really expands what we can do," he said. "It's a good division for Bremen Castings as a whole and puts us in a different limelight."
The metalcasters that gathered in Washington, D.C., in June to speak with their senators and representatives, did so as business owners. They spoke of the role of the metalcasting industry in the national economy.
During the congressional recess in August, metalcasters are encouraged to invite legislators to their plants to understand what goes on in a foundry, why having a strong foundry base in the U.S. is important, and how legislation can positively or negatively affect that base.
AFS has issue-briefing materials it can provide to members for these meetings.
When you have elected officials to your plant, talk about where your castings are going, what applications they will be used in, and the industries they will be supporting. Talk about the people who work there and the livelihood provided by your business. Point out the areas you are investing in, and talk about the strategic way you've positioned the foundry to thrive in the industry.
These dignitaries will be awed by the molten metal, but the business case for foundries is what will give the greatest argument for their vote.  
Click here to see this story as it appears in the July 2019 issue of Modern Casting.