Putting It All Together
Assembly can be a valuable part of a foundry's portfolio, but it brings challenges and might not fit every metalcaster.
Metalcasters are always looking for ways to better serve their customers. Not only do they want to stay ahead of the competition, but they have a genuine desire to help their patrons as best as possible.
For some plants, that means adding assembly to their offerings. They see it as a way to grow and perhaps add new customers to their portfolio. However, adding assembly brings challenges such as training and finding enough space in an already-busy facility.
Following, two metalcasters describe their experiences with assembly and the pros and cons of this value-added service.
Bremen Castings (Bremen, Indiana)
AFS Corporate Member Bremen Castings had been doing light assembly since it got into machining in the mid-1990s, performing tasks such as pushing in bearings and some special packaging. Around 2 1/2 years ago, Bremen decided one of its strategic initiatives was to become an assembly-type plant, forming a different division of the company.
"At least in our area in the Midwest, there's a desire for people who assemble things for other companies," Bremen president J.B. Brown said. "We are not the experts in that yet, but we have slowly started to do that."
A year ago, Bremen was approached by a customer that wanted the business to cast, machine and completely assemble its product. That included bar codes, boxes, packaging, warrantee cards, and shipping everything directly to a warehouse. Since then, Bremen has gotten its assembly capabilities up and running successfully and is looking at other customers or products for whom it can provide a full assembly line.
The surge into assembly is part of Bremen's continued evolution, which over the course of its history has added automated machines, ductile iron, machining and now assembly.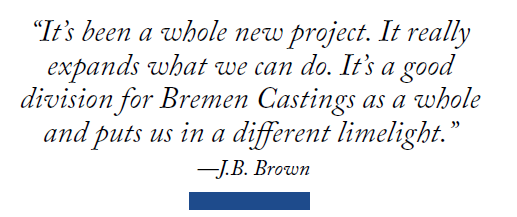 "It's a really good mixture, and a really good division for BCI to help incorporate and increase our revenue," Brown said. "We can be in charge of everything ourselves."
The ability to assemble helps Bremen's customers, and Bremen itself. Like other foundries (and companies in general), Bremen hears from customers ranging from machine shops to OEMs that something doesn't fit or isn't quite up to specification, taking up valuable time. Now with assembly in-house, Bremen saves that time and doesn't have to go through those conference calls and email chains, and issues can get settled in five minutes.
But that doesn't mean it's always easy. One example Brown cited was how a product was within spec, but the tolerance needed to be looser. That's not something companies are used to hearing, but Bremen had to go back and readjust. Now, Bremen is asking different questions to help its assembly get even better.
"We're biting our teeth a little bit," Brown said. "We're learning a few things on assembly."
Bremen has come up with gauges to make sure its customer is getting a consistent product every time. It has re-written blueprints and worked on expectations with the customer, which Brown said has been a "really good" experience.
One challenge Bremen has had to overcome is purchasing. The company is used to buying items for its metalcasting and machining operations. Purchasing equipment for assembly, including customized boxes, bags, warrantee cards, and the correct shade of paint? That's a different story.
"Now we're purchasing components that have to meet a certain spec that have to come from a certain place and the price has to be in a certain range," Brown said. "That's what we have to use."
Despite the challenges, Brown knows this is a good thing for his company. Bremen now is familiar with the process of onboarding customers for full assembly. If it means some R&D, that's fine. If it means adjusting pricing, that's OK too.
"It's been a whole new project," Brown said. "Very much different, but it's good. It really expands what we can do. It's a good division for Bremen Castings as a whole and puts us in a different limelight."
Powercast (St. Eustache, Quebec, Canada)
AFS Corporate Member Powercast was founded in 1978 and offers permanent mold aluminum castings. The company was one of the first aluminum facilities in Eastern Canada with the permanent mold and semi-permanent mold processes in its region.
It wasn't until the early 1990s when Powercast started offering assembly to its customers. Powercast general manager Ravi Gupta said the company noticed the "ever-changing demands" of the marketplace and wanted to stay ahead of the competition.
"There was a time when foundries only produced a casting and only cut the gates and risers, leaving the rest of the work for the customer to coordinate," Gupta said. "At that time, we began offering a turnkey solution to our customers–engineering and design support, toolmaking, casting, finishing, heat treating, machining and assembly. This expanded service offering coincided with the customers' increasing demand for purchasing a partly or fully finished part."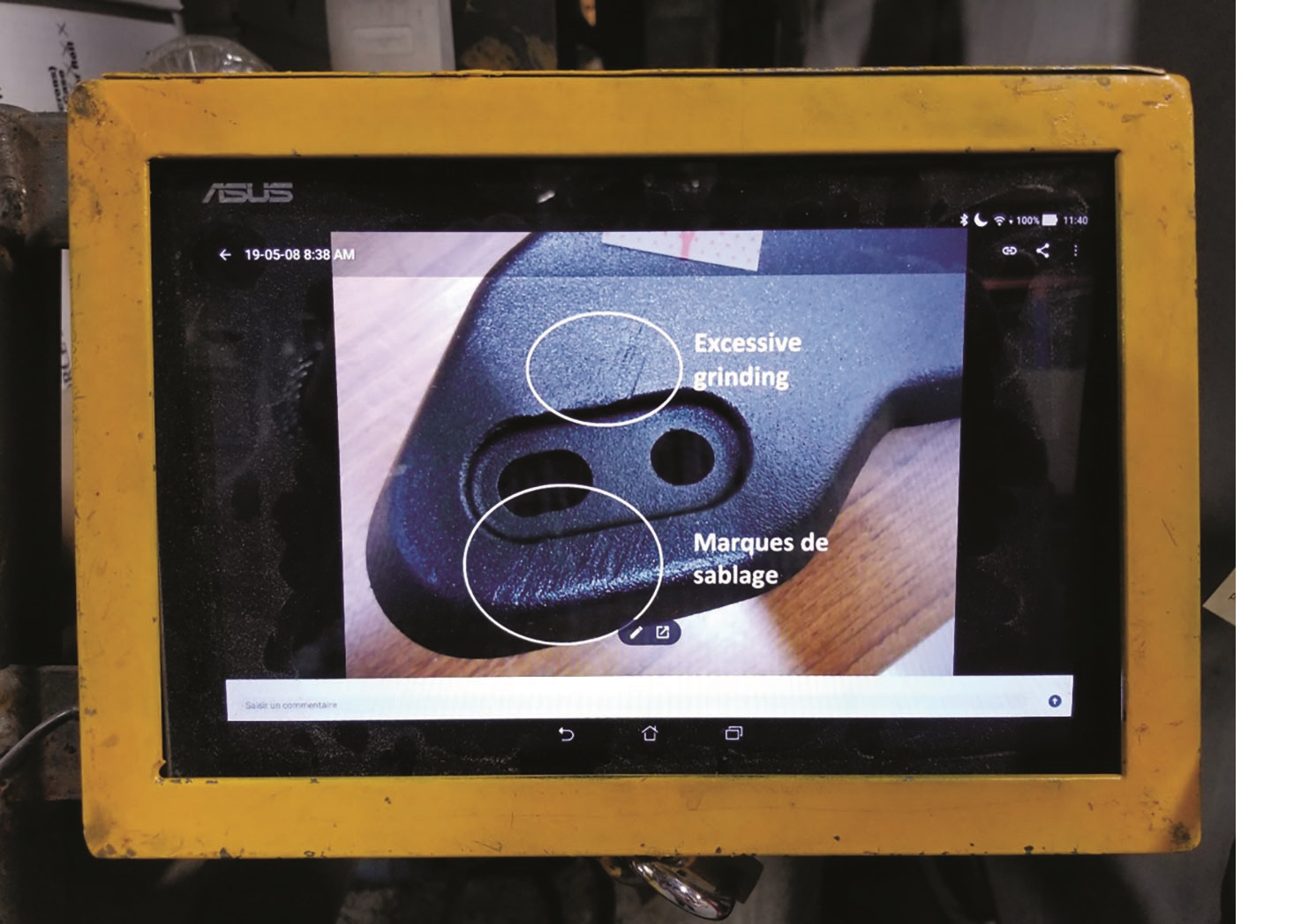 Today, Powercast's assembly operation is at the end of the value-added services it offers. It is close to the shipping department, since it's often the last operation before sending the parts to their customers. The services offered depend on Powercast's customers' requirements, but generally include purchasing several components that get assembled with the casting it produces. These components could include hardware such as nuts and bolts, plastic or rubber parts, instruction sheets, specialized packaging, or other components.
But as Gupta stresses, assembly is not part of a foundry's core business. It can bring obstacles, both expected and unexpected, that add complexity to a company's operations.
"There are challenges related to employee training, properly understanding the bill of materials and sequence of assembly, inventory management of all the non-casting components, and dedicating an area of the shop for this operation," he said.
Employees are trained by their lead-hands and foremen. Additionally, they have access to various tablets across the shop floor for quick access to process sheets, procedures, pictures, drawings, and other tools. Training, Gupta said, is essential to a successful assembly operation as it is not a standard foundry operation.
Powercast offers assembly in-house instead of outsourcing it because it gives the company better control over the operation and the work quality. Keeping assembly in-house means shorter lead times, and usually also ends up being cheaper.
The benefits make assembly worth it for Powercast.
"Offering a complete solution to our customers who are sometimes looking to outsource this part of their process," Gupta said. "Basically, it makes Powercast more attractive to some customers, while generating additional revenue. It is generally easier to generate additional business from an existing customer than trying to obtain additional business from new customers."
While assembly is an important part of Powercast's business, it might not be the best fit for every metalcasting company. There are some conditions foundries should meet to know whether they can add assembly successfully.
If it's going to be added, Gupta said, assembly must be added in a way that helps customers and doesn't stretch the facility too thin.
"Not every foundry is equipped, or has the room or manpower to propose assembly to its customers, therefore one needs to ensure that it can perform the operation successfully," Gupta said. "There are other things to consider: for instance, a typical foundry is a dusty place—hence it may not be the best environment to take on an assembly job that requires assembling parts and packaging them into nice white boxes—boxes that can easily be stained just in handling them, or by leaving them in stock somewhere in the shop.  
"The complexity and space requirements of the assembly must also be reviewed carefully."   
Click here to see this story as it appears in the July 2019 issue of Modern Casting.