Emerson's Bold Moves
Plant manager John Schuster and AFS Corporate Member Emerson (South Milwaukee, Wisconsin) are always working to improve.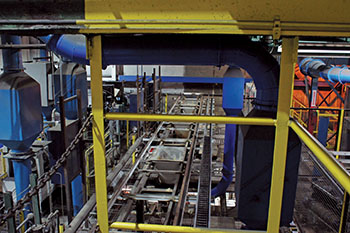 "We keep pushing to get better and better every day, and keep trying to get capital to keep investing in the facility," Schuster said. "I definitely think the changes I've seen are for the better."
What Schuster and Emerson are doing is working.
Owned by Emerson's Appleton electrical solutions for 20 years, the South Milwaukee plant employs 118. Emerson (St. Louis) Appleton electrical solutions serves multiple industries, such as oil and gas/refining, chemical, power, food and beverage, metals and mining, automotive, and electronics. Emerson produces 15 million castings annually, primarily for its parent company's electrical and lighting components, though it's dipping its toes into non-captive projects. Those Appleton products include standard hubs, sealing fittings, conduit bodies and conduit covers.
As the Appleton electrical solutions business moves into the future, Emerson remains a key part of the company's supply chain. At this year's CastExpo in Atlanta, Emerson was presented with the 2019 Plant Engineering Award. Since 2010 when a fire threatened the facility's future, the South Milwaukee company has enjoyed more than $20 million in investments. And that money hasn't been wasted.
When you tour the facility, the plant's brightness, thanks to new Appleton LED lighting is striking. The facility is over a century old, but is stocked with modern equipment and more on the way.  A culture change helps keep the facility clean and organized.
"They're really trying to modernize this foundry," maintenance manager Robert Axtell said. 
Building for the Future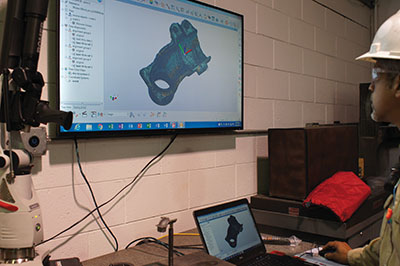 Emerson's South Milwaukee plant is the beginning of Appleton electrical solutions supply chain. After castings are produced in South Milwaukee for finishing, they go to Monterrey, Mexico, through Laredo, Texas. After leaving Mexico and returning through Laredo, the castings are then sent to Memphis, Tennessee, and shipped out from there.
To keep up with demand, Emerson must be efficient and up-to-date. Which it is.
That 2010 fire was the beginning of a change for the facility. In 2013, it invested $8 million for its DISA molding lines. In 2016, all malleable iron was switched to ductile, and annealing ovens were brought in, bringing over hundreds of thousands in savings and a lead-time reduction of four days. In 2017, another $1.3 million was pumped into a new core sand-mixing and distribution system. Then in 2018, melt furnaces were replaced with coreless induction melting for $7.5 million.
The adjustments haven't always been easy. But they have been worth it for the company.
"There's been a lot of challenges, especially when you're dealing with new equipment," Schuster said. "There's always bugs to work out, different processes. The melt was a really big challenge for us, because our previous method was continuous melting into big holders. This is small batch, so this is a totally different style of melting, totally different equipment. 
"There was a learning curve, but every day the operators and the staff are getting more familiar and better as we go."
The 2016 annealing project brought in three new ovens, two cooling stations, and a nitrogen generator. At one point, the company had seven annealing ovens but they had a lot of holes and were an inefficient seven-day process. Because of those factors, annealing was outsourced.
It was Schuster who convinced Appleton electrical solutions to invest in new annealing ovens. He pitched efficiency and savings and the project was greenlighted.
"Sending it outside was a seven-day process," Schuster said. "Bringing it back in house meant a 12-hour cycle. That's huge in lead-time reduction, especially when at the beginning of a lengthy supply chain and holding inventory in various spots within the supply chain. Keeping my lead time low allows them to keep lower inventory. It also allows us to push rush orders to front of line, and the quality is better."
The new annealing, like any major investment, does require adjustments.
"One of the struggles is, we got to this point where there were a lot of things put in place five or six years ago," said technical engineer Leonard Lamb. "If you lose track of that and start focusing on the new stuff and forget what got you there, you start losing traction." 
PHOTO GALLERY: Emerson's Bold Moves
The next big project came in 2018 when the new Appleton LED lights were installed. The lights increased safety and savings. The company trimmed more money and earned a $44,000 grant from Focus on Energy.
"With Appleton LED lights, how bright it is. You just don't typically see that," Axtell said. "I was quite amazed when I came here and saw how bright it is. 
"It's pretty impressive what they did in changing the culture to get that."
Up next was the core room sand mixing and distribution. Conducted over 2017-18, the project took multiple phases. Open conveyor belts, bucket elevators, and plows were removed. A pneumatic sand transporter takes sands from the existing silo to existing hoppers. By removing the plow process, the hoppers are enclosed. This means less equipment to maintain and has eliminated open transportation, which reduces silica exposure, labor for housekeeping, and potential contamination. A new binder handling system eliminated the use of 55-gallon drums and revitalized a gas generator room for the two-binder tote storage that is pumped to new-day tanks. The next phases of that project brought a new mixing system for 11 core machines. 
Then came the new melt furnaces. Brought in for improved safety and reliability, the foundry will save around $2 million. The project earned a $200,000 grant from Focus on Energy. 
"We've been looking at melt for a long time," Schuster said. "(AFS Corporate Member) Inductotherm has been quoting it since 2010. It's a lot of leg work, a lot of time. But in the end, it's going to pay for itself."
The first phase brought two new furnaces, a charge car, dust collection, a sprue crusher, water-cooling pumps and a tower. The next phase brought two more new furnaces, a second charge car and another water-cooling tower and pumps. The furnaces melt four tons per hour and came in on budget. Emerson also invested in a sprue crusher and dust collection system. An overhead monorail metal delivery system replaced an aging fleet of eight fork trucks.
A project that big is obviously a challenge, and Schuster said there has been a lengthy learning curve with the processes and equipment. They are trying to run across three shifts, which means supervisors and operators need to be up on best practices at all times.
"Inductotherm is a great company, but you're going to run it how you run it. It's your material, your products, what temperature you're going to run, what alloys you're using," Schuster said. "All that comes into play on how these things operate. It's a lengthy learning curve, but again as we get through hurdles, we get better each day."
Relishing Progress, Looking Ahead
The capital improvements likely aren't finished yet for Emerson. The century-old building benefits from annual upgrades. And there are plans to install new DISA molding machines. 
In general, the mood at Emerson is optimistic. Those who have been at the plant for years have witnessed its changes. As noted by Mike Kronenbusch, the plant superintendent, the switch to some of the new processes has reinforced how much knowledge was already in the building, though that's also meant some bad habits need to be broken or changed.
That doesn't overshadow how much progress is being made, and how Emerson has positioned itself.
"By making the upgrades, they can see what we used to be and what we are," he said. "Some of the newer guys haven't been able to see that as much, but some of the older guys can still share and say this is how it was. These are the issues. This is how it is today. This is how it was improved. They've spent a lot of money and that can help on the morale, knowing that the company is willing to invest."
Click here to see this story as it appears in the October 2019 issue of Modern Casting.