14th International Foundry Trade Fair Set for June
The metalcasting trade fairs GIFA, METEC, THERMPROCESS, and NEWCAST will be held June 25-29 in Düsseldorf, Germany.
In June, more than 2,200 international exhibitors will take part in a trade fair quartet centered on the global foundry industry. GIFA, METEC, THERMPROCESS and NEWCAST (GMTN), will cover foundry technology, casting products, metallurgy and thermal processing technology June 25-29 in Düsseldorf, Germany, for the first time since 2015. At the last GIFA, nearly 49,000 visitors attended, including 26,000 from countries outside Germany.
The trade fairs will be held in several halls at the fairground in Dusseldorf, and the individual halls have been organized thematically with individual focal points:
GIFA Hall 11: Pressure diecasting and peripheral devices.
GIFA Hall 12: Gating and risering technology, foundry chemistry.
GIFA Hall 13: Special show for additive manufacturing, special show for casting technologies, GIFA meeting point, and GIFA forum.
GIFA Halls 15-17: Foundry machinery and plants, manufacturing patterns, die and coremaking.
METEC Hall 3: Forging technology.
METEC Halls 4-5: Plant engineering, components and suppliers.
THERMPROCESS Hall 9:
Symposium.
THERMPROCESS Hall 10: FOGI special show.
NEWCAST: Halls 13 and 14 including NEWCAST forum.
GMTN is complemented with a supporting program of international congresses and industry meetings, including the GIFA Conference, the European Steel Technology and Application Days/ESTAD, the European Metallurgical Conference/EMC, the THERMPROCESS symposium, and the NEWCAST forum. Award ceremonies will also be held to recognize the winners of the NEWCAST Award.
The Special Show for Additive Manufacturing will premiere at this GIFA in Hall 13.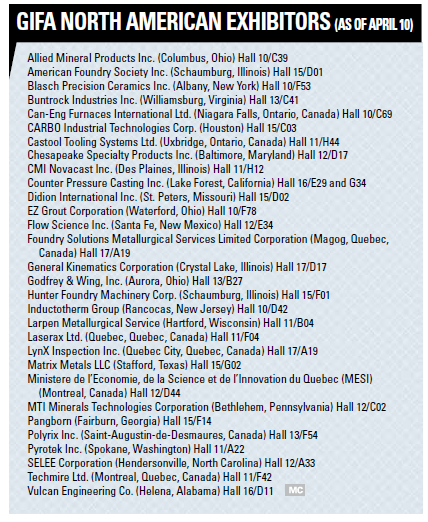 "GIFA will provide a powerful boost for the industry, particularly in e-mobility and lightweight construction in the automotive industry," said Gerrit Nawracala, Deputy Director for Metals and Flow Technology at Messe Düsseldorf GmbH. "This was recently proved in a study on the influence of electromobility on the foundry industry and its products initiated by the Confederation of German Foundry Industry (BDG). According to the study, alternative drive concepts such as hybrid and electric drives require increasingly high casting quantities in comparison to those for single drives on a combustion motor, and this will continue to be the case up until to 2030."
Fifty-two booths at GMTN will be showcasing U.S.-based companies. Top countries with exhibitors include Germany (665 booths), China (532), Italy (216), India (115), and Turkey (72).
GIFA
GIFA has been a hotspot for technological highlights and innovations for the entire value-added chain in casting technology for decades. As of April 10, 929 exhibitors were signed up for GIFA. Among them are Bühler AG (Switzerland), ASK Chemicals (Germany), FOSECO (Germany), Hüttenes Albertus (Germany), Kuka Deutschland GmbH (Germany), Loramendi S. Coop (Spain), the Sinto Group.
METEC 2019
In its 10th edition, the International Metallurgical Trade Fair with Congresses will continue to build on its success from 2015. Over 400 exhibitors from around the world will present systems for manufacturing iron ore, steel and nonferrous metals, or for casting or molding steel and equipment and components for metallurgical plants, rolling mills and steelworks in Halls 3, 4, and 5. The following companies have confirmed that they'll be exhibiting: Inteco (Austria), Primetals Technologies Ltd. (UK), RHI Magnesita (Austria), SMS Group (Germany), Tenova S.P.A. (Italy) and Sinosteel (China). For the first time, forged parts will also be presented at METEC. Until now, these were part of NEWCAST.
THERMPROCESS
With around 50% of participants coming from outside Germany and around 300 exhibitors, THERMPROCESS will feature companies including Ajax Tocco Magnethermic GmbH (Germany), Andritz März GmbH (Germany), Electrotherm (India), Honeywell Thermal Solutions – Elster GmbH (Germany), Inductotherm Europe Ltd (UK), ITG Induktionsanlagen GmbH (Germany) and Seco/Warwick Europe (Poland), which will display technological trends surrounding industrial ovens, industrial heat generation plants and thermal processes for precious metals, carbides, ceramics, steel and iron as well as in the field of components and equipment and processing and auxiliary materials.
NEWCAST
In what will be its fifth edition, NEWCAST has become a significant international trade fair. In Halls 13 and 14, more than 400 exhibitors will demonstrate how global the production of cast parts has become. Metalcasters use this platform to exhibit, such as the Rexroth AG (Germany), Finoba Automotive GmbH (Germany), GOM GmbH (Germany), Gießerei Heunisch (Germany), Eisenwerk Brühl (Germany), Kimura Foundry Co. Ltd. (Japan), Kutes Metal Inc. (Turkey), Lomopress (Italy) and Waupaca Foundry (USA).   
More information on the GMTN trade fair is at www.gifa.com.
Click here to see this story as it appears in the May 2019 issue of Modern Casting.