‹ Back to Columns
Building Community for a Sustainable Industry
Local impact has been a key driver for Jay Morrison's volunteer activity within AFS and the metalcasting industry. As a graduate of Western Michigan University and now with an established career as vice president of equipment sales at Carpenter Brothers in Comstock, Michigan, Morrison has used his AFS membership to make a difference in his regional foundry economy—serving in chapter leadership, helping raise scholarship funds, and encouraging others in his area to become involved.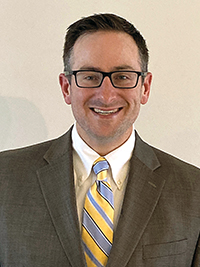 During the AFS Foundry Executive Leadership Conference last September, Morrison participated in a Q&A panel moderated by Brad Muller (vice president of marketing at Charlotte Pipe and Foundry), to talk about the value he's gained from involvement with AFS.
Question: How did you get involved in AFS?
Jay Morrison: I've been associated with AFS at least for 20 years at the professional level and in college I was in the student chapter at Western Michigan University.
Question: What are some ways to get others from your company involved in AFS?
Morrison: At Carpenter Brothers, AFS involvement is more of the rule than the exception. Just about everyone gets involved. We are a small company of 42 people. It's expected you are involved from a technical standpoint and at the local level. For instance, we are a metalcasting company, so when we bring on someone new, we rely on the AFS Institute's Introduction to Metalcasting to provide industry background. I have a personal love and passion for the industry, and I spend a lot of time encouraging our customers and other suppliers to be involved. I talk about how AFS helps to advocate, educate, and innovate the industry. Because it's the culture to get involved at Carpenter Brothers, my focus is more about getting people from the western Michigan area involved versus in my company.
Question: Talk more about chapters and how to keep them strengthened and feeding leaders back up into national leadership.
Morrison: In Western Michigan, we are blessed with a lot of foundries, Western Michigan University (WMU), and Muskegon Community College. We have had a very strong chapter historically, but we have had our issues, and getting people back and active after COVID—we are working through it. One of the things we have prided ourselves on is the scholarships we give out. For at least the last five or six years, our chapter has given $20,000-$25,000 a year. We have had a lot of people who want to be involved to help keep people within our own economy, whether it's through Muskegon or WMU or other schools in Michigan. 
Along with the education we offer in our monthly meetings, the camaraderie of getting together is also important and draws people in. When we move a little bit more into fun stuff, we do have more people. Chapter involvement is important, because our industry definitely needs more people and more young people. I got into it because I received a scholarship from the West Michigan chapter. I ended up working in Western Michigan. I found mentors in the area through chapter involvement. And I stayed with it. I'm passionate about it. Being involved in your local industry through chapter involvement helps people find out they are not alone and make relationships with others in the field that they can bounce some ideas off of.
Question: What has been the single most important benefit of your involvement and how would you communicate that to a young person?
Morrison: Beyond networking, it's the advocating of the industry through foundry in a box, scholarships, and other activities we do to make the industry self-sustainable. The education is also a big benefit. I try to go to a lot of conferences that cover many topics. A lot of chapters will also put on small meetings on Sand Making 101, for instance. AFS is also driving innovation and helping foundries improve their technical capabilities. It's a great organization to be involved in.
Question: What has your experience on the AFS Board of Directors meant to you?
Morrison: For me, it's another opportunity to give back on another scale. I have been very involved locally, and an opportunity came up to serve nationally and I was so happy to do it. Being on the board has been enjoyable and it's another way to see how things are run and give back to the industry.