‹ Back to Columns
Your Donation Dollars at Work
Have you ever wondered, "How does my donation benefit FEF, students, our industry?" FEF's largest donor base is made of individuals and companies interested in and concerned about keeping the flow of technical talent entering the metalcasting industry. That makes your gift extremely important and beneficial.
Currently, FEF has a network of 32 colleges and universities across North America, including one in Mexico and one in Canada. Each school receives an annual allocation from FEF to be used for scholarships, outreach events, metalcasting company tours, equipment and supplies, and various other activities engineered to inform, provide experiences, and educate.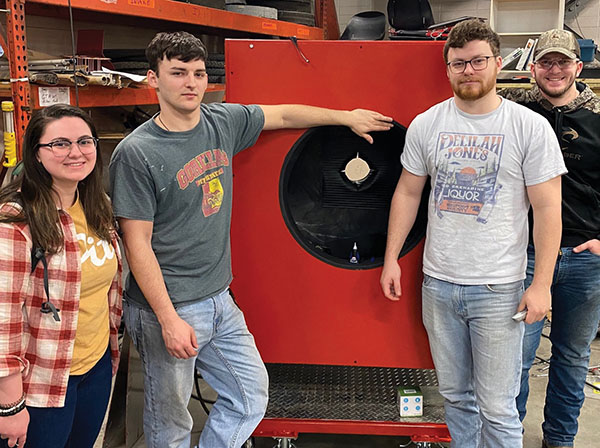 One FEF school is Pittsburg State University, located in Pittsburg, Kansas. The manufacturing program there has been part of FEF for over 40 years and is currently being led by Key Professor Russ Rosmait. 
Over the past year, PSU has used FEF funding—the funding donors provide—for several unique projects. One project involved building a piece of equipment for use in their academic foundry lab; the other project was designed to introduce young children to the industry.
For a Senior Design project, several students embarked on building a rainfall sander for their academic lab. Rosmait suggested this project because buying a rainfall sander is expensive, and he thought this process would provide some real-world experience. In preparation for the build, students visited area foundries that had this type of equipment to see how it worked; they researched current equipment on the market and then started the process of designing and building their own version.
Pittsburg State includes investment casting as part of their metal casting class. The rainfall sander is a common piece of equipment in the shell building room. Before building the sander, the sanding process was done by hand.
Not only did this project provide the students with a better process of completing their investment casting projects, it also provided them with experience in researching possibilities, tackling a client-based engineering project, and working through problems or issues they may encounter when they join the metalcasting workforce.
One of the other ways that Pittsburg State has used funding is for an event called "Casting for Kids." It is very important for young people to be introduced to metalcasting as early as possible. The seed needs to be planted so we continue to have students choose manufacturing as their careers of choice.
Casting for Kids is an opportunity for young people, as young as five to seven, to come to the PSU lab, see the process, participate in the process, and create their own casting. For this specific event, the casting was a spinning top—to celebrate National Spinning Top Day!
Pittsburg State's university motto is: By Doing, Learn. Both of these activities embody that motto, as do many of the opportunities provided to students by the metalcasting program at PSU.
All of FEF's schools greatly appreciate the funding they receive from our donors as other sources of funding continue to decrease. Your gifts help to fill that gap. Thank you for your continued support!
To make a year-end gift, please go to www.fefinc.org/donate.