‹ Back to Columns
Texas State Students Cast School Logo
Texas State University (San Marcos, Texas) has been an FEF-certified university since 1990. Over the years, hundreds of students have passed through the Department of Engineering Technology and had the opportunity to learn and experience the many facets of metalcasting.
Recently, three students at Texas State had the opportunity to put into practice what they had been learning in their classes and labs. They were asked to create a Texas State University Bobcat casting with a personalized engraving to give as a gift to Dr. Tom Bradicich for volunteering to serve as a speaker and mentor to the Texas State University Women in Science and Engineering (WiSE) program.
Margaret Lee, B.S. Engineering Technology (Mechanical Engineering Specialization), Kaitlyn Solis, B.S. Engineering Technology (Environmental Engineering Specialization), and Alejandra Tapia, B.S. Engineering Technology (Manufacturing Engineering Specialization) took on the project.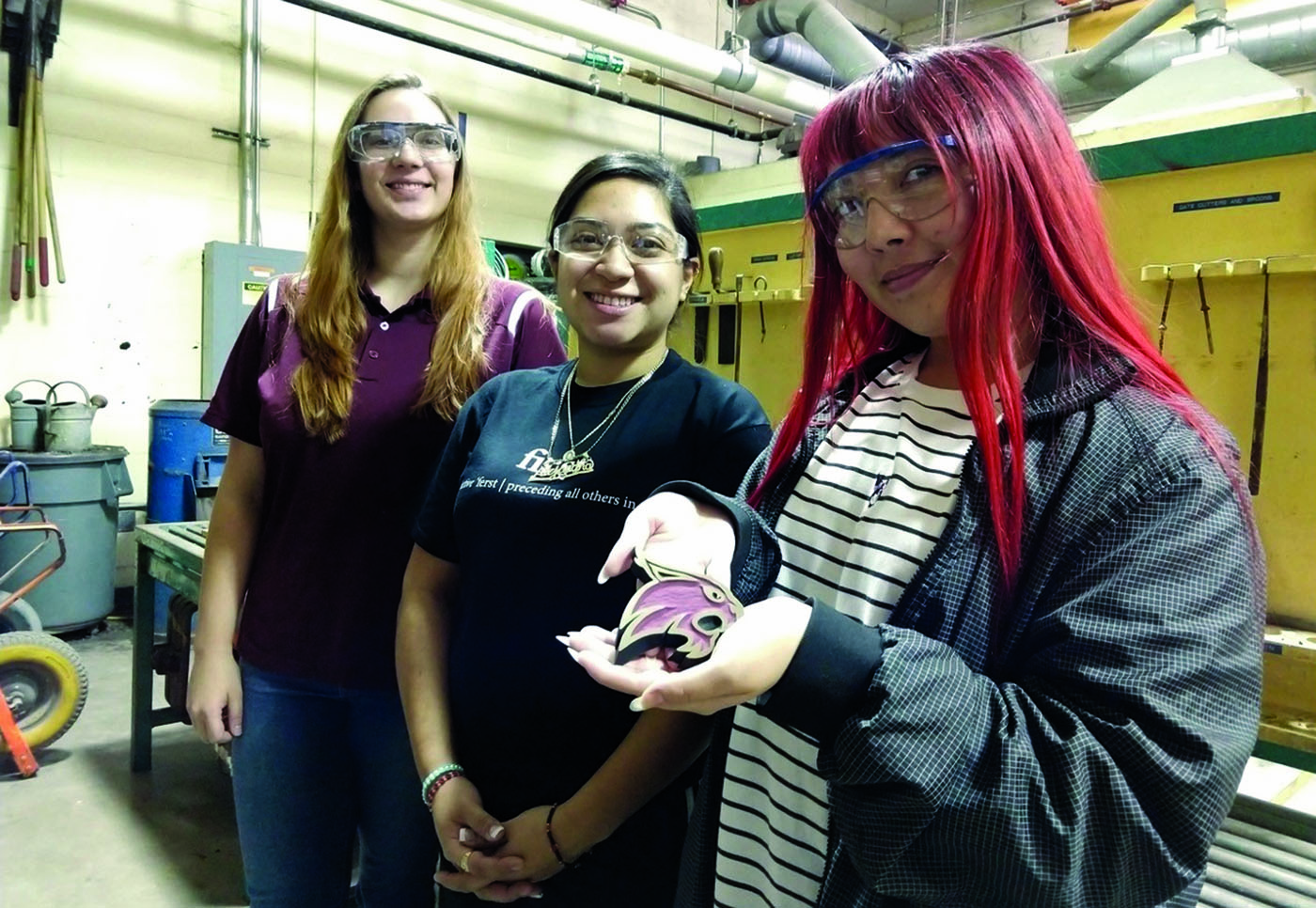 "It helped me to get more experience in the foundry. My only experience had been in the lab of the foundry course," Tapia said.
"We loved working on it and representing WiSE," Lee said.
This project not only served as a way to showcase their talent, it also provided an opportunity to learn and trouble-shoot.
"Because we are all in different tracks of the Engineering Technology Program and had not previously taken classes together, we learned to work as a team. We also developed a strong sense of camaraderie through the shared goal of completing the project," Lee said. "We learned how to use the mini CNC mill for engraving and to convert line art to a MasterCam file that could be used in the CNC for the engraving. I learned how to use petrobond sand to make castings."
It went well, but there were a few challenges. They had difficulty fixturing the casting during machining, which ended up making the casting thinner than intended.
But on the bright side, it was also lighter.
Producing giveaways and awards is just one of the ways that FEF students are able to put their creativity, knowledge, and metalcasting enthusiasm into action.
If your company has a project that needs fresh eyes or a new perspective, partnering with an FEF school is a great way to go. The students appreciate and enjoy the opportunity to learn and work on meaningful projects—contributing to the success of companies and the industry as a whole.
Click here to see this story as it appears in the February 2020 issue of Modern Casting.