‹ Back to Columns
Ushering in the Industry's Future
This month, manufacturers across the country hosted groups to come see what goes into making stuff. In the metalcasting industry alone, the U.S. produces everything from salad bar sneeze guards to engine blocks. Held annually in October since 2012, Manufacturing Day helps show students, parents, and teachers what a career in manufacturing can look like.
AFS hosts its own Manufacturing Day event, where visitors can make small castings to take home, meet with local metalcasters, and learn about working in the industry. After participating for eight years now, I like seeing familiar faces come in each year—teachers who saw the lightbulbs go over their students heads in previous visits, parents seeking to encourage their children's scientific curiosity, and local legislators who enjoy escaping the office to play in the sand.
According to The Manufacturing Institute, last year, more than 80% of the students who participated in a Manufacturing Day event said they became more convinced that manufacturing provides interesting and rewarding careers after attending one of the events. 
The next great generation of metalcasters could already be in the pipeline for the industry.
Last month, AFS welcomed its newest student chapter at Georgia Southern University (Statesboro, Georgia), making the current total of AFS Student Chapters now at 40. Run by students under the guidance of faculty and industrial advisors and supported by AFS, student chapter members further their metalcasting skills by networking with peers and professionals, manufacturing castings, conducting outreach, competing in casting competitions, and more. Student chapter members also receive a free year of individual membership.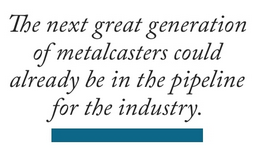 This month, fellow metalcasters starting their leadership careers are due to gather for a Young Professionals Program, which is a week of foundry tours, manufacturing presentations, industry discussions, and more. Interest in this event was so high it sold out.
In November, FEF will be hosting its popular annual College Industry Conference in Chicago. This event brings college students and soon-to-be-grads together with hiring metalcasting businesses. Last year, 116 students attended the two-day event, with 27 scholarships awarded. 
The interest in manufacturing and metalcasting is strong. You can help keep the momentum going by continuing to invite groups to tour your facility, considering supporting FEF schools and student chapters, and sending the younger staff at your business to events geared toward the next generation of leaders. 
For more information on AFS Student Chapters or Future Leaders of Metalcasting, visit www.afsinc.org. For more information on the College Industry Conference, visit www.fefinc.org. 
Click here to see this story as it appears in the October 2019 issue of Modern Casting.