‹ Back to Columns
Getting It Right the First Time
Casting Competition season is an exciting time of year in our office. So much potential for the future of metalcasting is displayed in the stories and castings that are submitted, whether it's the possibilities for new markets like interplanetary landing from Tooling & Equipment International (page 23), new applications that stretch typical capabilities from TPI Arcade (23), or new methods that insert castings into new functions from Consolidated Metco (page 22).
These castings open possibilities for their customers, and that is the key to being great for the industry. The more end-users you can convince that engineered cast components would improve their product, the bigger the pool grows.
Neenah Foundry—this year's Casting of the Year winner—was in this situation with a new customer. Amerequip designs and manufactures custom equipment for construction, lawn and garden, and general industry. When you are making equipment to order, it makes sense in many ways to lean on laser cutting and welding, as Amerequip does. But what happens when a design becomes popular and business grows? The team at Amerequip realized taking a first step into casting would probably be the right move, but it would also take them out of their comfort zone.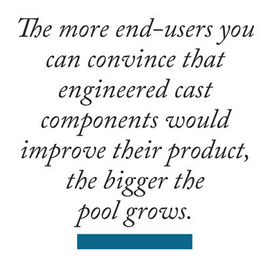 On the other end, Neenah Foundry had to do its part in practicing clarity in communication, willingness to educate, and perhaps most importantly, delivering a final casting that is so successful it brings the customer back for other projects.
Designing for an unfamiliar process and learning new jargon can make it discouraging for potential customers to consider metalcasting. For companies that are doing a lot of their own manufacturing—like Amerequip—there can also be some reluctance to lose control of part of the process.
Neenah understood that, as much as possible, it needed to make the process of transitioning to casting easy. This meant dedicating additional time to customer education, as well as incorporating modern methods, like 3D printing, to reduce hurdles such as lead-time and tooling cost.
Neenah's swing frame is a commendable example of how good design combined with smart, collaborative communication can result in an engineered compent that leaves the customer extremely satisfied and eager to apply what they've learned to other applications.
This year's group of winners, showcased in this issue starting on page 18, includes some of the finest castings we've seen in the 19 years of this competition.
Congratulations to them and to all the metalcasters out there spreading the good word about the industry.
Click here to see this story as it appears in the April 2019 issue of Modern Casting