‹ Back to Columns
Seneca Shows Way for Manufacturing Day
Webster City, Iowa, on the Boone River, is home to Seneca Foundry. Seneca is an AFS Corporate Member that has discovered how to make the most of Manufacturing Day to educate its neighbors on why metalcasting is vital to everyone, and to demonstrate the good jobs available in the industry.

Manufacturing Day is a national celebration of manufacturing during which all metalcasters and suppliers are invited to host tours and join in recruiting workers to the industry.  
The population of Webster City was slightly more than 8,000 in the 2010 census. By 2016 that number dropped by about 200, which makes Seneca, with its 44 employees, more important than ever. The town is an hour north of Des Moines and an hour west of Waterloo and Northern Iowa University with its critical higher education program associated with the Foundry Education Foundation (FEF).
Various participating foundries reported solid numbers for Manufacturing Day tours. Seneca, however, had an utterly astonishing number of visitors during its Manufacturing Day Open House, October 6, 2017.
It had 350 visitors. In context, that's roughly one in 20 Webster City residents.
"They just kept coming and coming," said Lori Mason, Seneca's COO. And why not? By heavily promoting its Manufacturing Day event, Seneca drove attendance and answered the enduring local questions: what is it you do in those big buildings? What is metalcasting?
"It's hard to believe but there are still people here who don't know what we do. Seneca Foundry has been in Webster City for more than 100 years. So, we advertised for four weeks in advance (of Manufacturing Day), we were on local radio, and issued flyers to engage with the community," Mason said.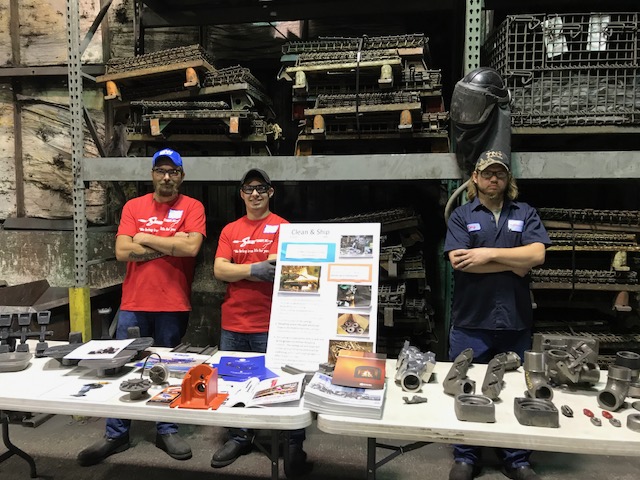 When the crowd arrived, Seneca was prepared. "We had employees from each department explain processes and answer questions as each tour group moved from department to department," Mason said.
Briggs & Stratton, a newer AFS Corporate Member, plans to host students from local Milwaukee-area high schools "for a company presentation and facility tour. We will highlight a few different career opportunities," including "our research and development department, engine lab, sound lab, and products assembly line, said Jessica Wick, human resources generalist. The company has developed partnerships in the past year and is expecting close to 150 visitors for Manufacturing Day.
Members of the Western Michigan AFS Chapter have an extended approach to Manufacturing Day. One foundry in Muskegon will "invite teachers and administrators along with elected officials and candidates," and will focus on students for the chapter's big February "Foundry Night" event.
Again, getting out the news to the community is critical. "Foundry Night is announced in one or two local news outlets and I think one local paper does an actual story on the event," said Jeff Cook, chief sales and marketing officer, AFS Corporate Member Eagle Group Manufacturers. Foundry Night draws 100-125 students.
Sharon Calahan, director of human resources for Bremen Castings (Bremen, Indiana), said the foundry participates every year because it's a "fun way to educate the next generation about all the opportunities available in manufacturing."
"We open our doors to the students at our local high school for a foundry and machine shop tour as well as a demonstration using our foundry in a box.  This year we are also going to our local Boys & Girls Club with the foundry in a box to engage children at an even younger level.  Increasing awareness of manufacturing (and the foundry industry) is a vital part of our community outreach effort."   
AFS Corporate Members who are industry suppliers get in on Manufacturing Day. Smith & Richardson (Geneva, Illinois), manufacturer of chaplets, used two days for the event in 2017. The company educated more than 200 students from high schools in Hampshire, South Elgin, Streamwood,  and West Chicago.
According to its news release, the tours focused on changing "people's perceptions about today's manufacturing environment and draw attention to the outstanding opportunities that a career in manufacturing can provide," a message AFS and its many other members will be hammering on again this Manufacturing Day.
Seneca illustrates that repeating an invitation to your desired customers will ultimately bring visitors to your Manufacturing Day tours. Exhibitors at CastExpo 2019 can effectively apply the same approach to getting their customers to visit them at the Big Show. More on that soon.
Meantime, sign up for Manufacturing day at www.mfgday.com. You get your own Manufacturing Day page, just like Seneca:
www.mfgday.com/events/2018/seneca-foundry-inc-2.
Need ideas for your event? Check out our information at www.afsinc.org/manufacturing-day.
And please let AFS know about your Manufacturing Day event. Send your story and photos to Joe Costin at jcostin@afsinc.org.
Click here to see this story as it appears in the September 2018 issue of Modern Casting