Tough Little Foundry Takes on Big Castings
Late one wintery day in 2020, a huge 3D-printed sand mold––wrapped in mountains of memory foam––traveled by truck from Cedar Falls, Iowa, to Webster, South Dakota. Upon its arrival to a small, gray and ductile iron foundry, recipients at AFS Member Dakota Foundry felt a mix of elation and trepidation. Though it represented a bargain compared to the $100,000 cost of making tooling, the mold for a one-of-a-kind manufacturing replacement part was still a $30,000 investment. Dropping or bumping it was out of the question.   
Printed and shipped in nine sections that the foundry assembled and glued together like a puzzle, the mold would shape the casting of a 2,000-lb. wire-stripper (wire drawing) block used in rare, old manufacturing machines at Parkway-Kew, North Brunswick, New Jersey. The company is primarily a metal coatings company that provides durability to high-wear components. Parkway-Kew's owners, a father and son in their 90s and 70s, used a broker to locate a few U.S. foundries with the capability of casting a replica of the part that was last produced in the 1970s and for which no pattern existed. Dakota Foundry, as it happened, was the sole supplier that responded to their online inquiry back in July 2020.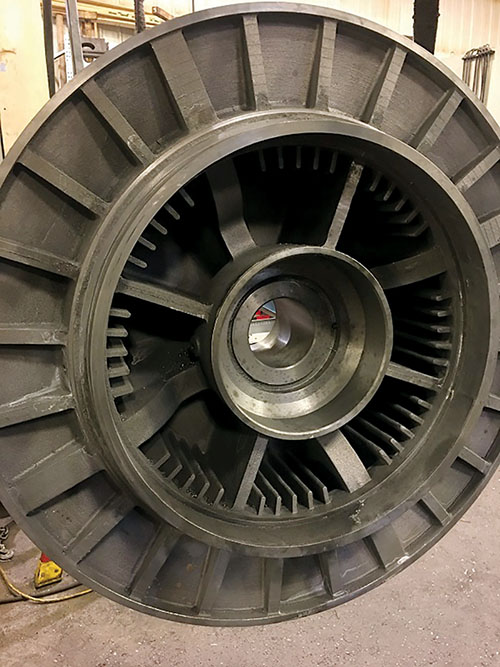 "We were the only ones that looked at the prints they sent us, which were from 1951," said Dakota Sales Manager Travis Monson. "They're just hand drawn, and we looked at it like, what the heck is this thing? We were the only ones that got back to him, and that's how the relationship started. 
"These machines were made from the 1930s to the 1970s–– they're used in the manufacturing of wire. They have about eight total blocks that wrap thick strands of wire around the block while spinning to stretch them to smaller gauge wire," he continued. "They had tried to refurbish it numerous times, trying to add material, but it just kept wearing out. It turned kind of urgent when their equipment was beginning to not operate anymore. There's only very, very few of these places left in the country that do this work, so there's no manuals, there's no parts. There's only prints from the '50s '60s, and '70s––basically a drawing of what the part is and its dimensions."
Each wire stripper block sits on a large motor, Monson explained, and spins at high speed to stretch wire. It's a process that generates a lot of heat, which is why cooling fins are incorporated into the design. The technology of 3D mold printing made it possible to cast the many fine details embedded in the old prints, which a part designer converted to CAD files for the customer. As a result, Dakota Foundry was able to cast the cooling fins as well as the wire feed grooves with exacting precision. Their work received recognition in this year's AFS Casting Competition as "Newcomer of the Year."
Specializing in low volume, high mix, as well as large and rare parts, such as those used in restored steam locomotives, the metalcaster partnered with the University of Northern Iowa (UNI) to produce the 3D-printed mold, which not only saved the customer money but at least two months in turnaround as well. Fitted with gating and risers and poured with 2,600 lbs. of molten, Class 35 iron, the finished single part weighed in at 2,000 lbs. and measured 48-in. in diameter, 17-in. in height. 
Big Part, Big Challenges
Communication and collaboration between part designer and foundry is always mission critical to achieving castability, and even more so in the case of producing one very large, detailed, component. One theme of concern Dakota Foundry addressed with the customer and their CAD designer was the thin walls––under a quarter of an inch––for the cooling fins. It became a delicate game of give and take, widening as much as they could, but, said Monson, one adjustment in the simulation model had a ripple effect on other areas. Some tweaks would make the casting design too big and they'd have to creatively configure how to shrink the size back to required parameters. 
"We would have a meeting with their CAD designer," said Monson, "and he'd be asking us questions; then all of a sudden you'd hear Gene (the senior owner of Parkway-Kew) in the background saying, 'All those fins got to be bigger than that!' He might not have understood the technology, but after 50 years of running his equipment he knew the fins had to be a certain size." 
And so it went, back and forth with emails and calls for about two months, Monson added, till the foundry received the final design. 
But there were still some obstacles to overcome. One was the risk of burn-in because of the very fine grooves embedded in the casting design––pouring iron at temperatures between 2,500F and 2,600F, the foundry took preventive measures with abundant mold wash to protect against unintended marks being seared into the mold. Despite great care, the burn-in problem persisted and some had to be ground out post-casting. 
"Everything was done just a little more meticulously," said Monson, "because there was so much precise detail involved. It's a one-shot deal, and you have to do it right the first time."
Meticulous also describes the foundry's approach while handling the 3D-printed sand mold, which was perhaps the job's biggest challenge, at least in the minds of the metalcasters. Fear of breaking the expensive mold was an ever-present concern. Slow and steady was the mantra, said Plant Manager Juston Barse.
"This mold had all the fins and everything printed in it, so it's not like you're going to have three guys just grab it and set it in position," Barse said. "You bust off the corners or snap off some of this 3D-printed material and we're set back at least a month. And they'd have to print a new mold that we'd have to pay for. So we were just babying that thing, and everybody kind of held their breath the whole time."
Group Effort
In every sense, the expert foundry veterans of Dakota Foundry worked together as one well-oiled machine, joining their combined 200-years of experience to develop the right procedures that made the casting a success. Barse credited everyone from the molding and melting crews to the grinding and shipping crews who all played key roles in getting the casting done perfectly and out the door. 
"One thing that makes our shop special is we're all hands on," said Barse. "We make the molds, we separate the molds, we paint the molds, we file the molds—everything is done to a tee versus just pushing buttons. That's why we're able to do these 50- and 100-year-old parts."
The team manually cut in all the gating and risers for the casting, he added, but together the group labored as much on the mental side as they did on the physical pour and finishing work. Pooling their deep knowledge and anticipating every way something could go wrong, the men strategized for a smooth feed and fill and were rewarded with a finished casting that satisfied every specification. Once the casting was poured, three guys worked a full day grinding by hand. 
"We were all standing around that casting before it shipped out, and we were thinking we might be the only foundry that could have done it," Munson mused. "Maybe others could have, but we were the only one that wanted to take it on."
One Good Job Leads to Another, and Another 
As you'd expect, once Parkway-Kew received its replacement wire stripper block, which fit and performed to their expectations, the manufacturer now had its go-to supplier for additional parts on other pieces of aging machinery. In fact, Dakota Foundry has already produced two more similar castings, though a mystery still shrouds the second job, also a 2,000-lb. part. 
All had gone according to plan and the casting was shipped on schedule to its New Jersey destination––but when it reached New York City, it vanished from the shipper's truck terminal. The customer personally drove an hour to the warehouse and spent two days searching the terminal to no avail, said Monson, and the unique, super-heavy casting has been missing ever since. 
The foundry felt bad for their customer as they completed a do-over part, but not as bad as they felt during the do-over they tackled on yet a third casting for the same customer.
"We got our cores in there," Monson recalled, "and we started pouring it. All of a sudden, the mold just started bubbling and going crazy––what happened was the core inside broke and floated up to the top. We had to buy another 3D-printed mold that was a little smaller than the first casting we did and cost about $20,000.
These jobs are high-risk, high-reward, and sometimes something like that happens, so it's back to the drawing board and you get another one."
A New Chapter for the Foundry
Owned by entrepreneur and inventor Kory Anderson, who also restores antique steam-powered machinery, Dakota Foundry encountered another setback over the course of its recent casting work for Parkway-Kew. Contacts at UNI for 3D-printed molds informed the foundry that the school could no longer devote the extensive student time required for fulfilling commercial orders. 
But Anderson, who has a knack for turning obstacles into opportunities, was not deterred.  They'd come too far with shortening lead times and cutting costs for customers with the 3D-printing technology to chuck it now. Monson wondered, would they pursue another supplier?  
"This spring, Kory and his wife, Ali, and a bunch of us were at CastExpo," he said. "I think he was thinking about this before we got there, but we went and looked at the ExOne booth and they had a show discount on their S-Max Flex 3D-printer. Kory got us all together and said, 'Hey, I'm thinking of doing this––do you think we should get it?' We're like, 'Heck yeah,' and we were like little foundry kids at Christmas."
The install was nearly complete early this fall and the team is learning how to use their new technology now that they're one of a few foundries in the country to offer 3D-mold printing in-house. To make the transformation complete, Dakota Foundry hired a new foundry engineer, too, but not just any engineer.
"He just graduated from the University of Northern Iowa," Monson said. "Taylor was one of the guys who used to do our work! Kory saw that he was graduating, and he's like, 'Hey, what are you doing after graduation?' And he says, 'Well, I need a job.' And Kory's like, 'I think I've got something for you.'
"We're already getting a lot of interest and inquiries," Monson continued, "and from customers, too. They're like, 'We're so happy to hear you're investing in your foundry.' And that's all on Kory––he's a forward thinker who says you have to be growing, you have to be advancing. The technology's there, let's get it. Fifteen years ago, I would never have thought we'd have a 3D-printer in this place. This is big news for us. We're a pretty small player in the grand scheme of things, but we can do a lot of things that big places can't, and we're proud of that."