Looking SHARP
A visit from an OSHA representative can induce anxiety in foundry managers—even those with strong safety programs already in place. But AFS Corporate Member Astech Alloy Steel Technologies (Vassar, Michigan) fought the anxiety by inviting OSHA in and collaborating with the administration as a partner—not adversary.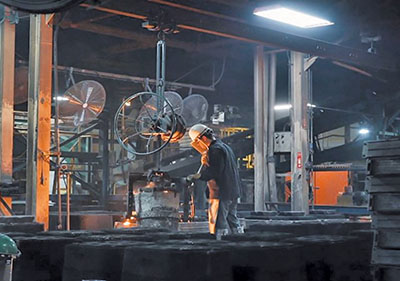 Now, the foundry has been officially certified through the OSHA Safety & Health Achievement Recognition Program (SHARP), creating a safer environment for its workers and visitors and proving it has the program and culture to maintain standards—so much so that it is exempt from OSHA programmed inspections for up to two years.
The small foundry operates with 36 employees and supplies steel and wear-resistant chrome iron castings produced via green sand, and nobake molding. Established in the 1980s, Astech Alloy was a stereotypical foundry of that size and era when Alan Bukach was brought in as its new president under new ownership in 2005.
"When I arrived, we began the process of a new vision for our future," Bukach said. "Change and innovation was my main goal. My vision was always to take an old company and transform it into something different­—to take an old business and look outside the box and make it a different kind of a business."
The transformation Bukach had in mind was to be all-encompassing, from the lobby's first impressions to the final delivered casting. Astech's involvement in SHARP, while primarily focused on safety and health, had far-reaching benefits.
"It gave us a good pathway to achieve some of our other goals, as well," Bukach said, "This included housekeeping, lighting, painting, how the plant looks, making sure everything is done electrically to code, preventive maintenance, ergonomics, employee retention—everything to make it a better place and safe place for people to work."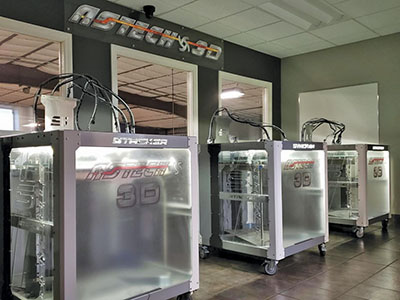 What Is SHARP?
OSHA's SHARP is a safety and health consultation program for businesses with fewer than 250 employees. The onsite consultations with OSHA representatives are no-cost, although some abatements and offsite testing will require investment. During the comprehensive consultation, an OSHA representative performs a complete hazard identification survey. OSHA works closely with business employees to find solutions to eliminate the hazards, which must all be removed before receiving SHARP status. 
"It's a little scary to work with OSHA—you think they are going to come in heavy-handed and you will get hit with violations and big fines," said Mark Swanson, Astech's former quality assurance manager who worked closely with OSHA during the foundry's process toward SHARP certification. But the division that runs the onsite consultations at OSHA (CET) is education and training, not enforcement. 
"They were extremely helpful, excellent to work with—great training, directions, suggestions, feedback, and they provided templates," he said. 
For example, as a silica sand foundry, Astech needed to have a silica control program in place. The foundry was able to start with templates on silica control provided by OSHA—it didn't have to start at square one.
Achieving SHARP status is not easy or quick, but the benefits can be huge—beyond the improvements to the facility. As mentioned previously, SHARP status gives companies an exemption from OSHA programmed inspections for up to two years; they are also eligible for subsequent renewal for up to three years. Companies with this recognition also stand to benefit from lower worker compensation insurance premiums and lower costly employee turnover while also reducing employee "days away" to keep operations running. 
Astech's Journey to SHARP
Astech began working with the CET program through the Michigan Occupational Safety and Health Administration (MIOSHA) in 2012. According to MIOSHA, CET consultants identified a number of hazards at Astech, including an improperly guarded band saw, storage of oxygen cylinder too close to other combustibles, storage of acelytene too close to an exit, inadequate capacity marking of a steel sling, an opening in a circuit breaker box, hot and neutral conductors reversed on a 120-volt plug, and an inadequate guard on a belt and pulley. All hazards had to be eliminated as part of the application for SHARP status. The consultations and abatements were conducted over the course of several months. 
"They told us what our hazard and health issues were and we would work on abatements, then they would come back and say what we could do better or if there were additional things we could do," Swanson said. "They also gave us materials to create policies and procedures."
Eliminating identified hazards is only one part of the SHARP application process. Businesses must also implement and maintain a safety and health program that addresses OSHA's safety and health program management guidelines and maintain a Days Away, Restricted, or Transferred (DART) rate and
Total Recordable Case (TRC) rate below the national average for the industry. The business must also agree to notify the state's onsite consultation office before making any changes in the working conditions or introducing new hazards into the workplace.
The process to achieve SHARP at Astech helped kickstart the transformation Bukach envisioned when he joined the company, and it solidified the team approach in a company that had been a top-down organization in prior years. 
"In 2006, we really didn't have a safety program," Bukach said. "Going from absolutely nothing to MSHARP (the MIOSHA version of SHARP) was a milestone for us. It's a difficult program to get into, it reinforces the willingness to do something different. The entire plant is involved in MSHARP; the input is there from all employees on a constant basis. It has done an amazing thing for us and has been critical to our success."
SHARP Benefits
In 2012, Astech's TRC rate was 6.2 compared to an industry average of 5.4. After bringing in MIOSHA for onsite consultation, Astech drastically lowered its rate to 1.9 from 2013-2015, compared to a then-industry average of 8.7. By 2018, the TRC at Astech was down to 1.25. The industry average: 10.2.
The foundry's DART stats are similarly impressive. In 2012, Astech started with a 3.25 DART average, slightly over the foundry industry average of 3.3. After a year of working with MIOSHA toward SHARP status, Astech lowered its DART to 1.7 and maintained that through 2018, when the foundry recorded zero days away, restricted or transferred employees. The industry average that same year: 5.9.
A byproduct of bringing the foundry up to OSHA SHARP standards is a metalcasting facility that is clean, bright and inviting—a place employees want to work at and customers want to do business with.
"It has enabled us to start searching in new markets and bring in new customers and new product lines," Bukach said. "When customers come in, from the moment they hit the lobby and go on tour, the first thing they say is, 'Is this a foundry?' It looks like a clean manufacturing facility. We are able to grab customers' attention and it doesn't take long after that they are sold on Astech. It reflects that we make a good quality product and our team here is excellent."
Astech's elite SHARP certification has been a strong agent of change in the foundry, which has made many improvements over the last decade and continues to make others—including a newly purchased muller system expected to be delivered January 2021. It replaces the last piece of old machinery since Bukach joined Astech in 2005. Next, Astech plans on exploring automating its grinding lines with robotics. 
"It's a completely different foundry now. I think we were successful in birthing something new that sets us apart," Bukach said. "We just keep going. We are looking at new processes and what else is going to make this plant more robust and solidify our future and our growth."      
Click here to view in the September 2020 digital edition