Long Day's Journey Into Right
On oldies radio, being "Up on the Roof" may be "as peaceful as can be," but in the real world, working on a rooftop is a darn scary proposition. In fact, Flent Ballantyne called it horrifying. But one man's rational fear of falling was the catalyst for inventing a unique, engineered fall-protection system––and only an aluminum casting proved to be the solution that could measure up to regulatory requirements and its creator's high expectations. 
Ballantyne, who owns a lawn treatment business in north Texas, began a side business of installing residential Christmas lights some 15 years ago to supplement his income with winter work. He quickly realized how the risks of sloped roofs on homes could be infinitely greater than on commercial flat roofing. His biggest surprise was the shocking absence of a product on the market that would keep him safe in the residential environment. The only adequate protection he could find involved hammering a piece of steel into the roof and securing ropes to that––an unpopular if not impossible option among most homeowners, he said.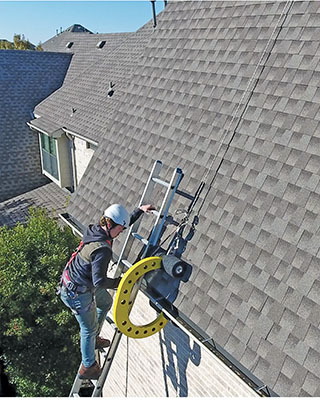 So, this trained musician-cum-lawn pro-cum-lights hanger became an inventor and set out to develop a non-penetrating hook device specifically designed to protect workers from falling off sloped roofs. Priority 1: He wanted a minimum of 7,200 lbs. of strength; Priority 2: He insisted on a solution light enough to be carried up a ladder. 
Little did he know he was about to embark on over a decade's journey before his 1,000-watt idea would emerge from various prototypes of dubious design and materials into the final "EVEOOK." That's the name of his Ballantyne Gear-branded system, all based on a 20-lb. cast aluminum, large C-shaped hook produced by AFS Corporate Member Carley Foundry in Blaine, Minnesota. 
The device, which is attached to wheels and rope, hooks below the eaves on two opposite sides of a house. It's installed from either the ground or a ladder (with fall protection) in as little as seven minutes by two people or under 15 minutes by one. Able to withstand twice the OSHA standard for weight force––10,000 lbs., not 5,000––EVEOOK meets ANSI Z359 standard for fall protection and restraint as well as other related OSHA standards. It also appears to be on its way to becoming the first engineered device in its category to meet the required standards in the state of California. In mid-August, Ballantyne said it was just weeks away from being commercially available.
"It is freaking extraordinary," Ballantyne said. "It's light, just 20 pounds; the thing is 23 inches tall, 32 inches long, it holds 2,000 more pounds than we asked for. It's so easy to install and to use. It's like if we would have said 'I have dream' and this is better than perfect.
"We incorporated all the common-sense things that nobody else does. And the strength in such a light product is just amazing."
The first stop on the circuitous route toward amazing involved a prototype made from a steel rod, then an I-beam version made from sheet aluminum that required some gluing in the manufacturing process. He also explored sophisticated plastics, which proved cost prohibitive. He worked with engineers and plants from Texas and California to China and Canada—all of whom struggled to achieve Ballantyne's concept for a lightweight hook that could stop at least 7,200 lbs. of free-falling force. All struggled, that is, but one: Carley Foundry.
When the plastics avenue dead-ended, that engineer suggested the eave hook might work best as an aluminum casting, so Ballantyne combed the Internet in search of the right vendor. He uncovered a Modern Casting magazine article about Carley, which had won an AFS casting contest––he knew he'd found the right people. 
But timing was not on his side––Ballantyne caught the aerospace parts maker at a busy season and eventually decided to seek a faster turnaround and lower pricing. Another nip in the budding relationship was the foundry's hesitation to design a casting for a safety product due to the associated liabilities. So, Carley Vice President of Engineering Randy Oehrlein made a few sketches, introduced the customer to design whizz Mark Bliss at 2RM Engineering (also Oehrlein's son-in-law), wished Ballantyne the best, and bid him adieu. 
About two years and numerous failed offshore manufacturing attempts later, Bliss urged Ballantyne to give Carley another try. 
"We wanted to bring them back in and help because we believe in the product and its market value," said Oehrlein. 
Together Again
Once Carley was back on the job, the original challenge of achieving big strength with minimal weight was joined by a new conundrum: working with tooling made by a previous vendor that Ballantyne wanted to keep. And what a prior engineer had considered an appropriate design for a casting actually wasn't, as Oehrlein's X-ray testing showed. 
"Flent knew it wasn't how we would've done it, but we said, 'Okay, we'll take the tooling in and we'll optimize it," Oehrlein said. "We did some modeling, some simulations––we saw we needed to chill here, we needed to cool there. We changed this tool. And after a couple iterations, we made some pretty great parts."
To say Ballantyne was glad to be back working with Carley Foundry would be an understatement.
"Our design engineer, Mark, says casting is half science and half art," Ballantyne said. "He says people have all these rules and they have all this software and great stuff, and that'll do great things for them. But we were getting past that point. We required a witch doctor, somebody that has magic––somebody that can do things other people can't. You know what––Randy, he's one of those guys. I mean, we've been down there and talked to those guys. And they are really brilliant."
While humbled by the magical references of his customer's compliment––a common response among casting buyers doing business with AFS members––Oehrlein asserted Carley Foundry's foundation of technology, process repeatability and science is the true basis for the results they achieved. 
Up for the Challenge
The final EVEOOK part was cast in a semi-permanent mold for good solidification, along with two shell cores. Carley Foundry's team would have preferred to specify one large pull box core because they have the necessary equipment, Oehrlein said, but given the constraints of using someone else's tooling, Carley opted to outsource shell cores to avoid having to discard what they'd been dealt. 
Then there was the small matter of material. Ballantyne believed A200 series was the way to go, but the Carley team knew the alloy couldn't deliver the price and properties combo this customer required. Instead, they advocated A356-T6 and persuaded him it was a better choice.  
"It's a much cheaper and easier-to-use alloy," said Oehrlein. "So we did that, and the parts have tested very well. We are getting properties out of our A356 about as good as you can hope for––you might say we get values that are well above published values for that alloy."
A fundamental shortcoming in the hook's early fabricated models was low torsional rigidity––no one falls in a perfectly straight line, and fabricated versions of the hook couldn't stand up to pull forces that twisted against them. Carley corrected the issue by creating heavy walls where it would be highly stressed and thin walls where less stressed. 
"It makes casting tougher so we had to do a bit of a balancing act," said Oehrlein. "If you're trying to gate a part in casting, it's nice to have section thicknesses so that it's easy to produce the part. You would think you'd need to have nice uniform walls everywhere. But nice uniform walls everywhere is very wasteful in a structural design. The engineering practice in casting is, never feed a thick section through a thin section––and we were kind of faced with that."
To reduce weight, the EVEOOK has several circular holes. The part achieves near net shape, requiring just two holes to be reamed, which Carley performs in-house. They outsource painting and labeling then deliver ready-to-assemble castings to Ballantyne's distribution warehouse in Colorado. 
To save the customer further cost burden, Mark Bliss and Greg Small (the professional engineer certifying the system to ANSI A359.6) designed test rigs and load cells so Ballanytine could do the testing needed to meet OSHA and ANSI standards.
"He needed to have the testing regimen for that," said Oehrlein. "This part needs good elongation and good strength. It has to be free of flaws, and it has to be free of shrinkage and inclusions in certain areas.
"In the aerospace world, you have a good process but then you literally check every part with X-rays and liquid penetrant testing and what have you ... but in a commercial part, that's like the death of it," Oehrlein added. "So, you've got to come up with a process that you have a lot of faith is going to produce good strong parts that don't require a lot of X-ray or penetrant."
In the end, Oehrlein said Carley Foundry was gratified by the opportunity to bring their creativity and expertise to the designing of a successful part and to make their customer happy.  
If I Could Turn Back Time
Did Ballantyne imagine it would take him 14 years to see his brain child to completion? Assuredly not. But one of his engineering comrades along the way affirmed that Flent would've traveled the path to create the EVEHOOK even if he had foreseen the challenges. 
"I said, 'why would I have?'" Ballantyne recalled. "He said to me, 'because it was what you should do.' He was right."    
Click here to view in the September 2020 digital edition