Lethbridge Iron Works, BRP-US Win Castings of the Year
Two castings exhibited the strengths of the casting industry in different ways to be named winners of this year's AFS Casting Competition:
BRP Pushes Envelope of What Lost Foam Casting Can Do
Casting Conversion Frees Up Customer's Internal Resources
BRP Pushes Envelope of What Lost Foam Casting Can Do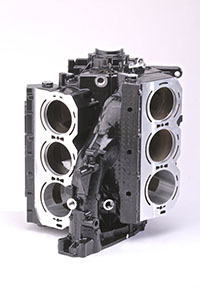 At first, the senior process engineer at AFS Corporate Member BRP-US Inc. (Spruce Pine, North Carolina) didn't really want anything to do with the 300-HP V6 engine block for a marine outboard engine. The block was so large and complex, featring a water jacket which sequences cooling water through nine separate targeted passageways within the block, cylinder bores, and exhaust. It was not a simple tube within a tube water jacket design.
"When we looked at this part, I knew it would be a difficult part, and I didn't really want to sign off on it," said Willie Anglin, senior process engineer. "But now, five years later, it is running better than many of our other blocks. The truth is, I never thought we would see it run as well as we do." 
The two-stroke 300HP V-6 marine engine block called the G2 Snipe is cast in aluminum via the lost foam method. Nine foam tools are required to produce 15 individual foam patterns and the runner. The cast walls are as thin as 4mm for weight savings. Plus, rather than bolt a welded exhaust to the block, the engine designers wanted to incorporate those features into the single aluminum casting.
The one-piece design eliminated the need for multiple castings, weldments, and their assembly. 
"The internal passages in this part are too delicate or too small to be made with sand cores," said Curtis Taylor, plant manager. "Lost foam internal passages, complicated internal passages is our claim to fame. We hold tight tolerances, and we make parts where people need a lot of cooling passages or oil passages."
This type of marine engine block is not so off base for BRP, which poured the first V-block two-stroke engine in production using lost foam. But succeeding at casting this part depended on process improvements at BRP that ultimately benefitted many other parts in production.
The first step in making the G2 Snipe is to make subassemblies of both the cylinder banks and the exhausts. Next, the cylinder banks are mated to the exhausts. However, before they can be joined, any glue squeeze or potential misalignment of the individual foam sections on the two mating surfaces must be dealt with. 
BRP uses a robot to smooth the mating surfaces and remove all obstacles to a robust glue joint between the cylinder bank and the exhaust.
"This part caused us to revisit our processes," Taylor said. "The tolerances for everything that touches this part are tighter than everything else we produce at this plant. Everything is tighter because the product demands it."
One of the improvements stemming from the G2 Snipe is BRP's drying process.
"Historically, we used only heat to dry the parts, and the biggest improvement we saw was through dehumidifying the makeup air," Anglin said. "We were able to decrease the relative humidity by roughly 90% for more effective drying."
Dry foam patterns are important, because moisture takes energy out of the metal as it is poured, creating cold-metal type defects. Moisture can also turn to steam, which can cause voids. Achieving more efficient drying helped BRP improve its scrap rate by 40%.
For the G2 engine block, BRP also faced a challenge specific to larger lost foam cast parts. 
"In a larger part like this, you are moving metal 25 inches through the part from a gate, and it just makes it so much more difficult to get the metal back and the liquid to stay liquid in those internal passages," Anglin said. 
BRP has been successfully casting the G2 block for five years, but Taylor admits the first three years were challenging. Through continuous process developments, like improved drying, the foundry has been efficiently manufacturing the block for two years now.
Casting such a complicated part may seem like more trouble than it's worth, but the cost savings from eliminating individual parts are considerable. Incorporating features into a single casting also helps achieve certain property and quality requirements. 
"You also reduce the number of gas leaks you could potentially have in a part. That can be an issue when screws holding pieces together come apart," Anglin pointed out. "You are going to save money, time, tooling costs, and will require fewer tools, fasteners, nuts and bolts—everything that goes into making multiple parts."   
Casting Conversion Frees Up Customer's Internal Resources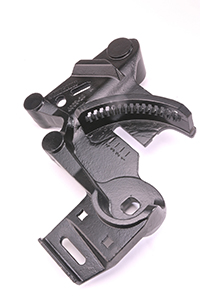 The opener main body casting by Lethbridge Iron Works Co. was a textbook case for a casting conversion from a steel fabrication. The cast design reduced the part count from 12 to 1, reduced labor and equipment time for the customer, decreased overall cost, and improved the performance through increased strength and tighter tolerances.
"For the customer, what makes a good candidate for conversion is the ability to save both time and money," said Mark Mundell, director of sales, Lethbridge Iron Works. "Everything written about conversion is true. If you can make a casting out of a multiple piece component, it is going to provide for a cheaper, more consistent and repeatable part, and it will lean out the manufacturing process."
Some casting conversions are more challenging than others. In the case of the opener main body for a coulter seeding drill, the design included varying section thicknesses and several functioning features located on different planes. A zipper-shaped depth adjustment feature is cast perpendicular to the mold parting plane, with other features being located on the horizontal parting plane. 
"The success of a conversion comes down to being able to work with the engineer to create a casting that is both castable and still meets their design needs," Mundell said. 
Incorporating the numerous adjustment features into the casting was critical to making the conversion a reality. Through the use of multiple cores, parting design, and draft allowances, all features were castable and achieved the necessary results.
After casting, Lethbridge Iron Works uses robotic grinding to finish each part. As this casting is the main component in the assembly, with multiple parts connecting to it, consistent surface finish and dimensional stability is critical. 
"We grind almost everything with a robot now," Mundell said. "It provides repeatability, consistent finish, and increased productivity. 
The cast version will save the customer considerable time and money.
"There's a tremendous savings because there are a lot of units on one seeding drill," Mundell said. "As companies struggle to hire people, leaning their processes out by reducing the waste associated with fabrications and focusing on assembling saves both time, money and frees up resource for use elsewhere."
All told, the main body casting incorporates multiple adjustment features, such as the height of the scraper and depths of the opener, integrated shielding, and clear, legible, cast-on identification markers. The conversion to casting resulted in a cosmetically superior appearance to the fabrication and an overall part cost savings of more than 30%. The consistent, repeatable, and dimensionally stable casting significantly exceeds that of the original weldment.
"The biggest wins in a conversion are the cost savings and the ability to reduce pressure on a company's internal resources to not have to have people and equipment available to otherwise fabricate the part," Mundell said. "These are the fun jobs, where you really get to make a difference to a company's bottom line."  
Click here to see the article in the May 2020 digital edition.