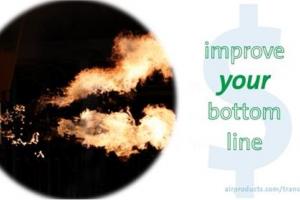 The Air Products ​Transient Heating burner is the only smart burner technology in the world using a sensor-driven control strategy to direct energy down toward the melt, sequentially to all areas of your reverb furnace. You get more even heating throughout the furnace, eliminate cold zones, and maximize melt rates. Watch our video to learn more. Our innovative, patented Transient Heating burner delivers: 
Up to 40% increased productivity

Up to 40% improved fuel efficiency

Up to 20% higher metal yield
Are you ready to boost productivity, fuel efficiency, and metal yield in your reverb furnace like never before? To learn more about this burner or to schedule a demonstration in our full-scale combustion lab, call 800-654-4567 or visit www.airproducts.com/transient.
 
Air Products is a global, leading industrial gas supplier. For over 75 years, customers have depended on us for reliable supply, services and technical solutions. Our engineers have worked side-by-side with non-ferrous metals producers for decades—helping them increase yield, improve production, decrease harmful fugitive emissions and reduce energy consumption and fuel cost throughout their operations. It's our goal to match your needs with an optimal gas system and innovative technologies.